J.D. Salinger authored Catcher in the Rye (1951) and numerous short stories. Known for being reclusive following the massive fame garnered by The Catcher in the Rye, Salinger rarely gave interviews. In 1974, after a 20 year break from the media, Salinger spoke via telephone to the New York Times. The interviewer asked him about his absence from publishing and the public eye and he responded: "There is a marvelous peace in not publishing. It's peaceful. Still. Publishing is a terrible invasion of my privacy. I like to write. I love to write. But I write just for myself and my own pleasure."
Because Salinger fiercely guarded his privacy, we're left with many more questions than answers about his life and experiences. We can turn to Salinger's biographers or to the memoir written by his daughter, Margaret, titled Dream Catcher for some telling information, but each written discussion of his life has in turn been disputed by other family members.
So, what do we know about Salinger? According to one biographer, Ian Hamilton, though Salinger never met F. Scott Fitzgerald, he greatly admired Fitzgerald's work and saw himself as capable of becoming Fitzgerald's successor.
Then in 1944, Salinger encountered Ernest Hemingway at the Ritz in Paris. He was genuinely impressed with Hemingway's demeanor and asked him to critique his work. Their second meeting was less fortuitous, but Salinger reached out to Hemingway again in a 1946 letter, which was available to the public for the first time in 2010. In it, we get a taste of Salinger in his own words. If you're interested in more of an analysis of the letter, this NPR interview is especially insightful.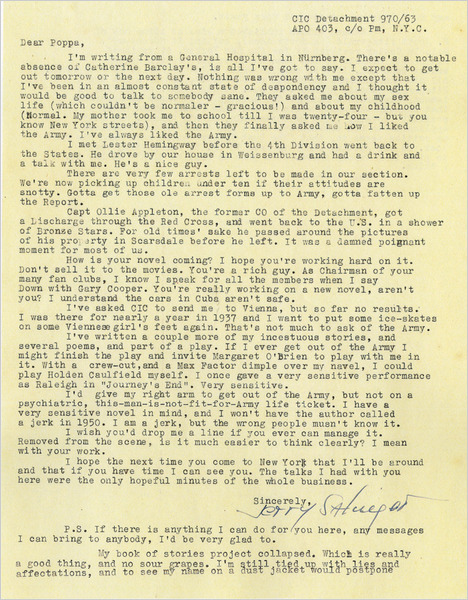 Meanwhile Salinger's work left a lasting impression on the literary landscape. Renowned literary critic Louis Menand noted that rewriting Catcher in the Rye had become "a literary genre all its own." He named Sylvia Plath's Bell Jar (1963), Hunter S. Thompson's Fear and Loathing in Las Vegas (1971), Jay McInerney's Bright Lights, Big City (1984), and Dave Eggers' A Heartbreaking Work of Staggering Genius (2000) among the works indebted to Salinger'a magnum opus.
Here's what other legendary
authors had to say about Salinger:
"The response of college students to the work of J.D. Salinger indicates that he, more than anyone else, has not turned his back on the times, but, instead, has managed to put his finger on whatever struggle of significance is going on today between self and culture." —Philip Roth

"His is the most influential body of work in English prose by anyone since Hemingway." —Harold Brodkey

"The short stories of J.D. Salinger really opened my eyes as to how you can weave fiction out of a set of events that seem almost unconnected, or very lightly connected...[Reading] Salinger sticks in my mind as really having moved me a step up, as it were, toward knowing how to handle my own material." —John Updike

"[Salinger was] a man who used language as if it were pure energy beautifully controlled, and who knew exactly what he was doing in every silence as well as in every word." —Richard Yates
What's your take on
Salinger's
contribution to literature?
1974 New York Times interview review found here.