How much is a baseball worth? Maybe a dollar or two, right? Get that same baseball signed by Alex Rodriguez, and you have a collectible item. If that baseball happened to be a home run ball, you've hit the jackpot! Signatures and autographs in books work much the same way. The rarity of both the book and the signature help determine the value of a book.
Signatures vs. Inscriptions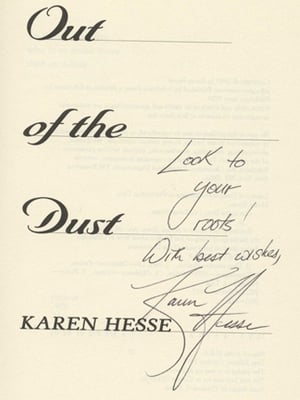 Not all signatures are created equal. In fact, signatures (autographs) and inscriptions fall into a few different categories. Here's a brief overview. For more detailed information on signatures and signed books,
check out this post
.
A book described as signed has a signature on a page of the book itself. It has no personalization, such as "To Susan."
If a book is inscribed, it is personalized and addressed to a specific person. If the person isn't closely associated with the author, the inscription often isn't considered to have much of an impact on the a book's value.
An association copy is usually an inscribed book that is addressed to a specific individual connected to the author.
An autopen signature is often seen with presidential materials. An autopen is a machine used for the automatic signing of a signature. Bottom line: it isn't really a signature and doesn't do anything to the value of the book.
Signatures naturally tend to be more common than inscriptions and/or association copies. Contemporary authors often do book signings when they go on tour, thereby increasing the number of signed books available and decreasing the value of signed copies.
Authenticating Signatures
Of course, only an authentic signature has value. Experts certify that a signature or inscription is authentic by comparing the handwriting to other known samples of the author's writing. The authenticity of signed books and signatures in particular is the number one element of the trust a reputable seller of autographed books is hoping to establish and maintain with their customers.
Can you truly "certify" a signature? Only if you have seen the author sign the book, and if you never let the book out of your sight. If you just see the signature, you can't...nobody can. You can rule out fakes but cannot do the opposite. You can only confirm that it is highly likely for a signature to be authentic by comparing it with existing signatures.
What Is Provenance and Why Is It Important?
Provenance refers to the proverbial paper trail that signed books and association copies should have. In the world of rare books, a book's provenance is its chain of ownership. Investigating that chain can help rare book collectors avoid purchasing forgeries, facsimiles, and even stolen items. There are several means of establishing a volume's provenance:
Purchase documentation: If a book has been passed to multiple owners, there should be a chain of receipts and other documents to show the chain of ownership.
Inclusion in a catalogue: This indicates when a book was part of a specific collection, usually of a particular dealer who was in possession of the book. However, sometimes catalogues document the collections of private individuals as well.
Marginalia: It can be easy to forge signatures, but forging someone's notes throughout the margins of a book is quite the task. Marginalia can provide useful context to corroborate a book's provenance.
Book plates: These can be another indicator of provenance, but they shouldn't be relied upon as the only evidence of provenance; book plates can often be replicated easily.
Investigating and thoroughly documenting a book's provenance doesn't just protect you from buying fakes. A rare book's provenance also significantly impacts its value. The more certain the book's provenance, the more it can be worth in the rare book market. Meanwhile, if a previous owner had special status (then making the book an association copy) that is well documented, that can also add to a book's value.
For older books, it's also beneficial to see documentation of any restoration done to the book. Note that any changes to the book's original condition can impact the market price of a book among discerning collectors. Be sure to find out what's been done to the book, when, and by whom. A reputable dealer will be open and honest with you about any known restoration efforts.
Ultimately the most important tool you have to protect yourself is your own common sense. If you have questions or concerns about a rare book's provenance or a signed book, ask the seller. After all, reputable dealers aren't in the business for single sales; they want to build lasting relationships with their clients.
For a number of signatures available for comparison purposes, see our collection of reference autographs and signatures.