Summer is in full swing, and along with all that sun comes the joy of summer reading! But the sun can cause irreversible damage to your skin⁠—and your books. It's important to protect your rare and collectible books from heat, humidity, and sunning.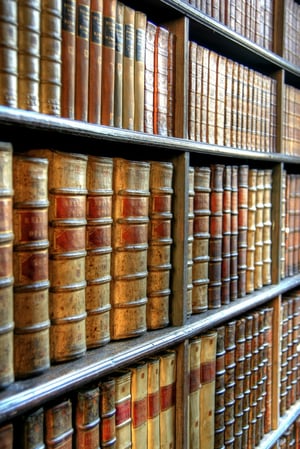 Sunning occurs when books are exposed to light. Although the UV rays of sunlight are by far the most harmful, any kind of light can cause damage. Light triggers chemical changes in paper, leather, and cloth, resulting in deterioration. Signs of sunning include the following:
Discoloration of paper (usually yellowing or browning)
Over time, the pages, covers, and dust jackets of your books may become brittle or delicate due to breakdown in the fibers. This chemical reaction continues even after a book has been removed from the sun, although at a much slower pace. Spines are particularly susceptible to damage because they are the most frequently sunlight-exposed parts of the book.
To preserve your investment in rare books, it's important to store your books properly. Unfortunately we've seen many collections that have been virtually destroyed by sun, with dust jacket damage ranging from lightly faded to virtually burned through, and cloth spine and edges being faded as well.
Total dark storage is ideal for preservation, but this isn't always a practical option

⁠—

after all, you want to enjoy your collection! Instead, store your books and paper out of direct sunlight.
Choose a room/library that receives minimal direct sunlight or has small, no, or UV protected windows. One caveat: basements and attics certainly restrict light, but they may also expose books to moisture or extreme temperatures.
Avoid using unshielded fluorescent lights where you store your books.
If possible, use a UV filtering product such as UF-3 Plexiglass or Acrylite OP-2 on windows and fixtures.
Apply dust-jacket protectors with modern first editions. Archival dust-jacket protectors have built-in UV protection and provide at least a basic level of sunlight protection to the dust jackets.
So for the rest of this summer, enjoy books at the beach, but leave your collectible books at home! Protecting them from the sun will increase their longevity and also protect their value.