Who is Rigoberta Menchú Tum, and when and why was she awarded the Nobel Prize? Until 1992, the year in which she won the Nobel Prize, not many people outside of Latin American knew of her existence. However, after the Nobel Committee awarded her the Nobel Peace Prize, she became the "youngest person ever to be bestowed with this honor," according to the Fundación Rigoberta Menchú Tum. But prior to winning the prize, Rigoberta Menchú's story received international attention after she narrated her autobiography to Elizabeth Burgos, a Venezuelan anthropologist. The book became I, Rigoberta Menchú, which ended up topping bestseller lists. What was so significant about the book, and why do we remember it as a foundational work of human rights literature?
Writing the Self in I, Rigoberta Menchú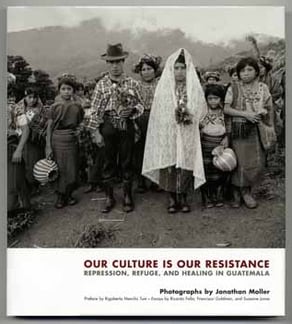 As Elizabeth Burgos explains in her introduction, Rigoberta Menchú is a Quiché woman from Guatemala. She tells her life story to Burgos, which includes the stark violence perpetrated against her family and other members of indigenous groups who were targeted for extermination. Burgos emphasizes that Rigoberta Menchú narrated her life experiences in Spanish, a language she only had spoken for three years at the time that Burgos drafted the text.
Burgos describes the significance of the work this way: "The voice of Rigoberta Menchú allows the defeated to speak. She is a privileged witness: she has survived the genocide that destroyed her family and community and is stubbornly determined to break the silence and to confront the systematic extermination of her people. She refuses to let us forget. Words are her only weapons."
The text begins:
"My name is Rigoberta Menchú. I am twenty-three years old. This is my testimony. I didn't learn it from a book and I didn't learn it alone. I'd like to stress that it's not only my life, it's also the testimony of my people. It's hard for me to remember everything that's happened to me in my life since there have been many very bad times but, yes, moments of joy as well. The important thing is that what has happened to me has happened to many other people too: my story is the story of all poor Guatemalans. My personal experience is the reality of a whole people."
Winning the Nobel Peace Prize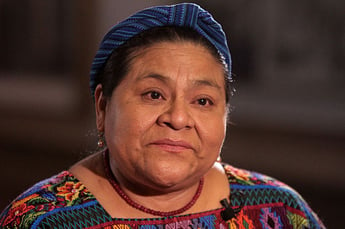 Indeed, Rigoberta Menchú's testimony helped to depict the violence and genocide against indigenous Mayan people of Guatemala in the 1980s, largely perpetrated by the Efraín Ríos Montt regime. For many, I, Rigoberta Menchú did serve as collective testimony, giving voice to indigenous Guatemalans who did not have the opportunity to tell their own stories of personal, familial, and ethnic violence. Filmmaker Pamela Yates made a documentary that largely focused on Rigoberta Menchú's story only a year following the release of the autobiography, entitled When The Mountains Tremble (1983).
While many lauded I, Rigoberta Menchú for its literary and political significance, others have questioned its veracity. To be sure, according to an article* in Stanford Alumni Magazine, David Stoll's research, reflected in his 1999 book Rigoberta Menchú and the Story of All Poor Guatemalans argued that "Menchú fabricated some of the most horrific details in her story, manipulating it to create a work of propaganda that would be useful to the anti-government guerillas she joined in 1981."
Does it matter if Rigoberta Menchú told the truth? What is true and what isn't? Perhaps truth, in this case, is more subjective than we typically like to believe. We do know that the voice of Rigoberta Menchú, as Burgos describes it, helped to illuminate moments of political violence in Guatemala and to solidify her position as a human rights activist. When the Nobel Prize committee awarded her the prize, it emphasized the content of I, Rigoberta Menchú and the importance of literature in developing modes of "resistance to oppression." In the years following the book's publication—and even decades after winning the Nobel Peace Prize—Rigoberta Menchú Tum has continued to work as a political activist in Guatemala and abroad.
What should you ultimately believe? You'll have to pick up a copy of the book and consider its historical, literary, and political significance for yourself.
*Read the full article here.