Charlotte, Emily, and Anne Brontë are sisters of great literary skill. All three are still published authors over 100 years after their deaths. The novels they produced explore the intricacy of human nature and the effect one person can have on others. Their lives provide examples of the difficult life faced by citizens in Industrial Age England. Before being published, the sisters were forced to be teachers and governesses. Once they started seeking publication, they were forced to use male pseudonyms in order to be published. All three died from causes treatable with modern medicine. Through their writing and, by extent, their lives, Charlotte, Emily, and Anne Brontë give readers a glimpse into the life of well-educated, intelligent women in the Victorian Era.
Brontë

Biographies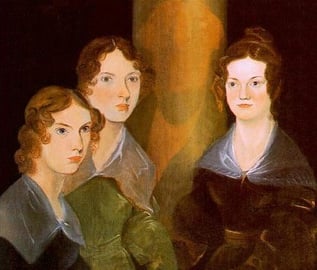 The oldest of the three sisters, Charlotte, was born on April 21, 1816. Emily was born July 30, 1818, and Anne was born on January 17, 1820. Their mother and two elder sisters died shortly after moving to Haworth in the Yorkshire moors. Charlotte and Emily attended the Clergy Daughters' School where fees were low, food was poor, and discipline was severe. As difficult as life at the school was, it served as inspiration for the sisters', especially Charlotte's, writing. After a year at school, Charlotte and Emily returned home to learn with Anne and Branwell, their younger brother. During this time, the sisters played games, wrote, and told stories that helped develop skills they would use later in life as writers.
Charlotte was sent away to school in Roe Head where she stayed a year before returning home to teach her sisters. Three years later Charlotte returned to Roe Head as a teacher with Emily and Anne accompanying her as students. Emily only stayed for three months, however, due to her intense homesickness. During their time as students, Emily and Anne continued their imaginative play by inventing an imaginary kingdom about which they wrote. As they grew older, all three sisters worked as teachers and governesses, the only careers available for well-educated young women. The sisters planned to open a school together, prompting Charlotte and Emily to study in Brussels. Emily returned to England, but Charlotte stayed despite her loneliness and entered the tutelage of Constantin Héger, who helped her develop her literary skill and the understanding of herself vital to the creation of her novels.
Returning to England, Charlotte attempted to start a school with her sisters, but they failed to attract students, so the venture was dropped. This failure allowed for the sisters to discover their shared passion for writing. They each adopted a pseudonym matching their initials and published Poems by Currer, Elli and Acton Bell. Despite its minimal success, the sisters' first publication allowed them to find a different, more enjoyable occupational alternative to teaching. The Brontë sisters, like many writers, explored their place in society through their writing. Due to their work as governesses, they were especially concerned about the role of the well-educated young women—with no marriage prospects—and elements of human nature.
Charlotte published Jane Eyre, her first novel, in October 1847, while Anne and Emily's first novels, Agnes Grey and Wuthering Heights, were published together in a three-volume set in December 1847. Anne published her second novel, The Tenant of Wildfell Hall, in June 1848. Later that year she contracted tuberculosis. She died on May 28, 1849 at the age of 29. Emily also suffered health problems, including tuberculosis, and died on December 19, 1848 aged 30. Charlotte was left as the only surviving child to care for her aged father. She continued to write and eventually married Arthur Bell Nicholls in 1854. Charlotte died a year later on March 31, 1855 due to complications during pregnancy. All three left works filled with insight into human nature that are still celebrated today.
Human Nature as Explored by the
Brontë Sisters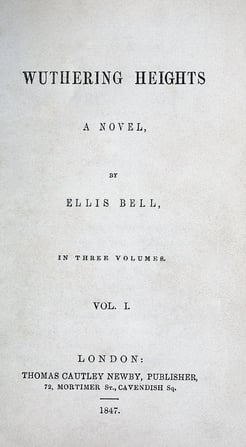 In their novels, the Brontë sisters explore elements of human nature. Emily explores the darkness present in human nature in Wuthering Heights. The primary example of this can be seen in the influence Heathcliff has on the other characters. His darkness and desire for revenge cause a chain reaction, sucking the other characters into his self-destructive spiral. In the novel, Emily shows the error of giving into the darkness of violence and revenge when she says, "...treachery and violence are spears pointed at both ends; they wound those who resort to them and those worse than their enemies."
While Emily explores the darkness present in all humans, Charlotte provides a more tempered view. She shows how darkness can come unintentionally from one's experience and is utilized because there seems to be no other way. The character she uses to explore this, Mr. Rochester, is not purposely cruel or seeking revenge like Heathcliff, but rather is reacting to his experiences and is trying to find happiness. Charlotte expresses this view when she writes, "If all the world hated you and believed you wicked, while your own conscience approved of you and absolved you from guilt, you would not be without friends." By the end of the novel, readers see how this idea carried the characters through their trials and helped resolve their differences to find happiness.
The Brontës show readers both the light and the dark present in human nature. They explore the balance needed through their characters, allowing readers to learn about their own nature through the experience of others.
Sources
-Anne Brontë. (n.d.). Retrieved June 24, 2018, here.
-
Bock, Carol A. (n.d.). Charlotte Brontë. Retrieved June 24, 2018,
here
.
-
Brownson, Siobhan Craft. (n.d.). Emily Brontë. Retrieved June 24, 2018,
here
.
-
Charlotte Brontë Quote. (n.d.). Retrieved June 25, 2018,
here
.
-
The Editors of Encyclopedia Britannica. (May 25, 2018). Anne Brontë. Retrieved June 22, 2018,
here
.
-
Emily Brontë Quote. (n.d.). Retrieved June 25, 2018,
here
.
-
Tompkins, Joyce M.S. (April 14, 2018). Charlotte Brontë. Retrieved June 22, 2018,
here
.
-
Tompkins, Joyce M.S. (August 24, 2017). Emily Brontë. Retrieved June 22, 2018,
here
.