For being men of letters, is was not literature that brought together the friendship of Noël Coward and Ian Fleming as much as class and location. Both men were embroiled in the life of leisure and excess characteristic of their upper class when the pair met in Jamaica in the 1940s. There, they could bask in the tropical sun, drink, smoke, swim, dine, pursue lovers, and above all, talk. A taste for fun, debauchery, ego-boosting, and wit mattered most; any overlap of vocation was considered but a welcome accident.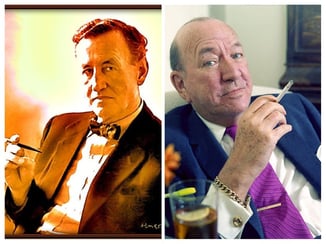 Jamaica, of course, was where Ian Fleming kept his Goldeneye estate, and where he began to concoct James Bond, often writing in two-hour bursts producing 2,000 words in that short time. And his method was all the better for carving out time for drinking, lounging, and skirt-chasing.
Noël Coward disliked Fleming's home, which seemed too concrete and clinical, and called it "Golden Eye, Nose, and Throat," a chide at its resemblance to a doctor's office. But otherwise the pair shared much in taste. By 1931, Coward was the highest-paid writer in the United Kingdom, and moved to Jamaica to avoid paying the 50 percent tax rate to the crown. He adapted well to the climate and culture. Coward, known as "The Master" for his many talents, painted watercolors of the vistas visible everywhere in his Caribbean retreat. He bathed in the sun and hosted some of his generation's most eminent creative types, from Truman Capote to Katherine Hepburn to Laurence Olivier.
Both men shared the common prejudices of their class, and loved England and the empire it had. Ian Fleming was a snob, he favored the best luxuries, and had a rigid idea of even what the implicit class of his debonair spy should be, leading him to his famous reservations about Sean Connery, who was at first too coarse in Fleming's eyes to play his hero. He had affairs with many women, and did not treat them with much of what we would recognize as a feminist education. Noël Coward, a gay man, did not join his friend in his many Jamaican sexual exploits, but they could relate to each other, free from the bonds of political correctness. "Gandhi has been assassinated," he once wrote. "In my humble opinion a bloody good thing but far too late."
Indeed, Coward was drawn to Fleming's wild romantic life. He warned Ian and his wife Ann of a peeping photographer as they ate breakfast on the balcony one morning. He was also, as a courtesy, made the godfather of their son, Caspar. Coward, Ann confessed, "should be used as a cabaret and not as a guest, he does not understand the give-and-take of talk and the deserts of pomposity between the oases of wit are too vast."
Fleming kept tempestuous relationships with women, and Ann was someone uniquely equipped to take delight in his "pointless bullying." But after the birth of their son, Ann's Cesarean scars repulsed Fleming, and it heralded the end of their love life. Fleming subsequently used Jamaica as a place to conduct great affairs with the global elite on the island, including oil heiress Millicent Rogers, Lady Jeanne Campbell, and his favorite paramour, the defiant Blanche Blackwell.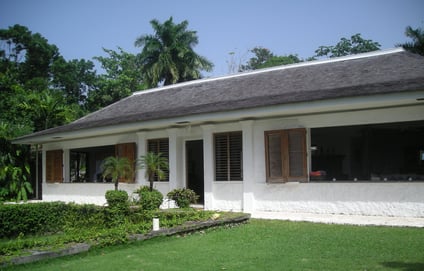 Goldeneye, Ian Fleming's Jamaica estate, 2011
Noël Coward wrote a play about the Flemings and their dynamic on the island, including the salacious activity that Ian pursued. Named The Volcano, it was too scandalous for release in his lifetime, and was performed for the first time, just a few years ago, in 2012.
Fleming and Coward were also vacation buddies in Dover (Coward sold his house to Fleming in 1951), and kept correspondence for when they could not bond over some gin and cigarettes. Below is a letter from Coward, where the pair's playful and jabbing spirit is on clear display. It concerns Fleming's latest novel, Dr. No:
This is just to inform you that I have read Dr No from cover to cover and thoroughly enjoyed every moment. But as the gentleman in Oklahoma! sings about Kansas City: "You've gone about as fur as you ken go." I am willing to accept the centipede, the tarantulas, the land crabs, the giant squid. I am even willing to forgive your reckless use of invented verbs—"I inch, Thou inch, He snakes, I snake, We palp, They palp, etc. But what I will neither accept nor forgive is the highly inaccurate statement that when it is 11am in Jamaica, it is 6am in dear old England.

This, dear boy, not to put too fine a point on it, is a fucking lie. When it is 11am in Jamaica, it is 4pm in dear old England and it is carelessness of this kind that makes my eyes steel slits of blue. I was also slightly shocked by the lascivious announcement that Honeychile's bottom was like a boy's! I know that we are all becoming progressively more broadminded nowadays, but really old chap, what could you have been thinking of?

I am snaking off to New York on Thursday where I shall be for two weeks, and then I inch to Cannes.
It's the sort of clever and playful conversation as only true friends may keep.