"If I feel physically as if the top of my head were taken off, I know that is poetry...Is there any other way?"
That's Emily Dickinson in the late 1870s talking about how she defines that inexplicable moment when a poem moves you—when a piece of poetry elicits an emotional, non-rational, sometimes transcendent response as you subconsciously identify with an image, a moment, a phrase, a scene. It's an experience that's often difficult to intellectualize and describe, and sadly, one that many casual readers can't easily access as poetry is pushed more and more to the fringes of contemporary publishing, relegating it to near niche status.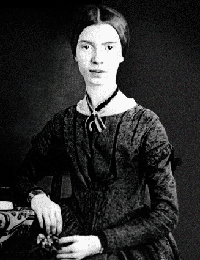 Yet even as the ability for poets to reach a wide readership becomes more and more diminished, the number of affecting, moving poetry collections from skilled, insightful poets seems to be never greater. From form-bending, nonconformists to those steeped in classic poetic traditions and tropes, poetry enthusiasts have no shortage of options when it comes to cracking a book on sunny afternoon.

With that in mind, here are five contemporary poets you should be reading now who just might, as Dickinson so well put it, take the top of your head clean off.

Yusef Komunyakaa

Komunyakaa is the author of more than 10 collections of poetry infusing jazz rhythms and traditions with modern, hip colloquialisms and themes. His work most often concerns the African American experience throughout the rural South before and leading up to the Civil War, as well as his own experience as an African American solider in the Vietnam War. Born James Brown in 1941, he reclaimed the name Komunyakaa from his grandfather, who came to the United States as a stowaway on an ocean liner. Komunyakaa is the recipient of numerous awards and accolades, including the Pulitzer Prize for his 1994 collection, Neon Vernacular.

Juan Felipe Herrera
The current United States Poet Laureate, Herrera is first Chicano poet to hold this title since the distinction's inception. Herrera is a master of several mediums and styles and has authored 21 books including 14 poetry collections, young adult novels, and children's books. Herrera's poems and stories deal primarily with his experiences as the son of migrant farm workers and the social justice concerns associated with his heritage and upbringing. Heavily influenced by the Beat poets of San Francisco in the late 1950s and 1960s, Herrera's work defies aesthetic and categorization, and two of his works—187 Reasons Mexicanos Can't Cross the Border (2007) and Undocuments 1971-2007 (2007)—were published by City Lights Books, an independent publishing house started by famed Beat poet Lawrence Ferlinghetti.

Louise Gluck

A former United States Poet Laureate from 2003-2004, Gluck is known for her dark, bleak poems about deep issues of the human condition like love, loss, death, grief, familial tragedy, and failed relationships. Her poems are sparse, elegant, and rife with lyrical flourishes, so much so that she was awarded a Pulitzer Prize in 1993 for her landmark collection, Wild Iris. Gluck, who grew up in a Jewish Hungarian household in New York City, has authored numerous collections of poetry and has published numerous essays and other writings centered on her main themes of exploration. In addition to serving as Poet Laureate, Gluck also served as a Poet Laureate Consultant to the Library of Congress in 2003.

Rodney Jones

Referred to by famed poet Robert Wrigley as a "poet whose work is intellectually sparkling and at the same time beautifully approachable," Rodney Jones is most widely known for poems that explore his rural upbringing in the American South, and for his efforts to preserve Southern dialects and vernacular. Jones' poems center on the investigation of place and memory through the use of inventive narrative techniques and images. His 1999 collection, Elegy for the Southern Drawl, was nominated for a Pulitzer Prize, and he's the recipient of several awards and fellowships including those from the Guggenheim Foundation and the National Endowment for the Arts Foundation.

Gregory Pardlo

Winner of the 2015 Pulitzer Prize in poetry for his collection Digest, Pardlo is a relative newbie to the national poetry scene but has quickly established himself as a poet to watch. His debut collection, Totem, was published in 2007 to great critical acclaim and accolades, and he's been awarded a number of prestigious fellowships and grants including a NEA fellowship. His poems employ sophistication of language and form while capturing snapshots of everyday life, as well as breaking down the complexities and nuances of culture and identity in 21st Century America. Pardlo has taught at a number of renowned colleges and universities across the country and is currently a visiting professor at Rutgers University in New Jersey.

Image source.