While the book has been around for millennia, the practice of selling them at auction is relatively new. By most accounts, the first book auctions occurred in the Low Countries in the late sixteenth century. To understand why the rise of the book auction happened at this time, it is essential to remember that the printing press was invented the century before. While the onset of book auctions saw its fair share of detractors, the practice has continued through today.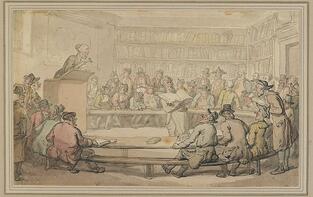 We know about early book auctions through surviving book catalogs. A Dutchman named Lodewijk Elzevier was among the pioneers of the book auction, and from men like Elzevier, the business model spread to England and beyond.
The printing press had much to do with the ascendance of the book auction. The most obvious reason was that the press made books more widely available. Other propitious circumstances which contributed to a favorable climate for book auctions included a growing number of literate people, a shortage of libraries, and many families who were willing to part with their collections for a quick sale.
The first catalog in Britain dates to 1668. There were about one hundred auctions in Britain from 1676 to 1700, which, according to John Lawler in Book Auctions in England in the 17th Century, meant a sale of 350,000 books to a revenue of 250,000 pounds.
Book auctions came at a time when the book industry in Britain was experiencing a slowdown. The King had imposed regulations on the book trade (such as price caps) that had hurt business. The auction provided a way for booksellers to connect to customers in new ways. Because booksellers could now circumvent certain unpleasant customs, there were some tensions between officials and book auctioneers. Outropers, or officials whose job it was to auction property confiscated through bankruptcy and legal action, felt especially undermined.
A lack o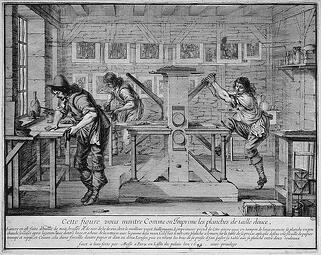 f regulation led auctioneers to begin supervising themselves. Customers who failed to pay were recorded. Sellers began to crack down on on other sellers who used "setters," or people whose purpose was to inflate the price during bidding. Many auctioneers did lie. Some exaggerated the value of their stock. Others drummed up enthusiasm by attributing the books to the library of a learned man, when in truth the books were merely unsold inventory.
Auctioneers themselves became known for their personality, charisma, and salesmanship so that sellers and buyers would take note of an effective auctioneer. Auctioneers were not required to know their product especially well. One auctioneer claimed all books in an auction dated from the earliest era of press-printing, when many books were far from so old. Another enthusiastic auctioneer's reading of books for sale resulted in delay of their catalog and impediments to business.
With the exception of some auctions that took place in the house of the owner of the collection, auctions were often held in public spaces such as halls and coffeehouses. The book auction made the general reader's access to books and information much wider than it had been before, when finding books was slower and dependent on the libraries of friends and close relationships with booksellers. Book auctions were occasions for readers to assemble in public. Thus, they encouraging debates, wider readership, and learning. In this way, the book auction not only connected buyers with sellers, but readers with the vast (and priceless) world of stories and ideas.