In the history of the horror novel, some works have come alive in popular imagination. One of these is Mary Shelley's Frankenstein (1818); almost everyone is familiar with the plot regardless of whether they've read the book. Bram Stoker's Dracula is similarly ubiquitous. Although Stoker did not invent the vampire legend, his classic work has defined and popularized the myth across continents and generations.
We all know who Dracula is, but what about Stoker? Who was the man who made "vampire" a household name?
Early Life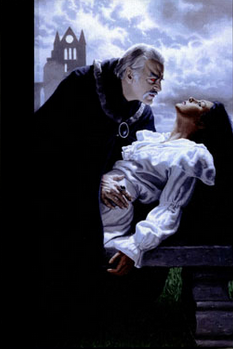 Born November 8, 1847, Abraham Stoker grew up in a town outside of Dublin, Ireland. Stoker was a sickly child, spending the majority of his early years confined in bed. During this time, he developed an interest in all things spooky—reading Irish folklore and listening to horror stories narrated by his mother. By the age of seven, Stoker made a complete recovery from his illness and even became something of an athlete.
Stoker excelled in academics, attending Trinity College in Dublin where he studied mathematics and graduated with honors. During his college years, he entered the Irish Civil Service working at Dublin Castle. Additionally, Stoker wrote as a freelance journalist and theater critic for the Dublin Daily Mail. It was through his writing that he met the famous actor, Henry Irving, with whom he developed a lifelong friendship.
By 1878, Stoker moved to London after accepting a management position at the Lyceum Theatre, where he worked directly with the theater's owner, Irving. This new career introduced Stoker to some of the most influential people of the time including: Theodore Roosevelt, Walt Whitman, and Hall Caine, to whom he later dedicated Dracula. It was also in 1878 that Stoker would marry Florence Balcombe—an actress who had previously been engaged to Oscar Wilde.
Becoming a writer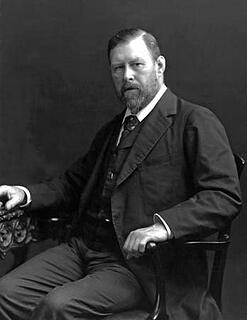 Living in the theater world, among celebrated personalities, inspired Stoker's fiction career. In 1872, the London Society published his short story, The Crystal Cup and in 1875, published his first novel The Primrose Path which was published through a series of installments in the Irish magazine, The Shamrock. After this initial success, he continued to write prolifically. However, it was over twenty years before he produced Dracula.
After meeting Ármin Vámbéry, a Hungarian traveler and writer, Stoker became interested in European mythology and stumbled across vampire legends. After years of research, Stoker published Dracula in 1897. A novel comprised of journal entries, letters, and newspaper clippings, Dracula tells the story of a vampire voyaging from Transylvania to England in hopes of finding new, unsuspecting victims. Although not an overwhelming success, reviews were favorable. The Daily Mail praised Stoker's writing above that of Edgar Allen Poe, Mary Shelley, and Emily Brontë.
Stoker continued to work as manager of the Lyceum Theatre until Irving's death in 1905. Then in 1912, after suffering a series of strokes, Stoker himself passed away at the age of 64. While many say that his death was due to stress, quite a few historians argue that he died from tertiary syphilis.
After Stoker's death, the original manuscript of Dracula was believed lost. Amazingly, however, it was located during the 1980s in a Pennsylvania barn. The 541 typed pages included Stoker's corrections and handwritten working title: "The Un-Dead." After its discovery, the document was purchased by Microsoft co-founder, Paul Allen. It remains today in his private collection.