Books contain tremendous power. They captivate our minds, change the way we look at the world, and transport us to faraway lands. It seems hardly possible to make books any richer than they already are. However, through the beauty of illustrations and the mechanics of pop-up books, readers of all ages can find an even greater appreciation for literature.
The Beginnings of Paper Mechanics
The first "pop-up" was more of a machine than book. It was invented by Ramon Llull (ca. 1232-1315), a writer, theologian, and mathematician, who later became a martyr in the Roman Catholic Church. Called a "Lullian Circle," the device was composed of several revolving, affixed circles each annotating an ideal. The separate paper discs featured their own specific category such as: knowledge, verbs, and adjectives. The circles were cut out and fastened together so that they could rotate upon each other as needed. According to Llull, there were a finite number of truths in all areas of knowledge. He believed that the various combinations in the Lullian Circle would reveal truths in all areas of inquiry.
The fourteenth century saw a rise in movable books, particularly the "turn-up" style. These volumes became especially popular for medical students learning human anatomy. One of the most highly praised was printed by Andreas Vesalius in 1543. In his book, De Humani Corporis Fabrica Librorum Epitome, Vesalius not only shared his immense anatomical knowledge with readers, but displayed a beautiful regard for illustrations which continues to be upheld to this day.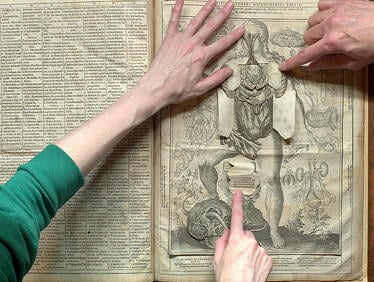 It was not until much later—the late 1700s—that books were introduced solely for children's entertainment. With the creation of children's literature by John Newbery, publishers were encouraged to find new ways to appeal to their younger audience. In 1765, Robert Sayer created a movable book known as the "lift-the-flap" style. In this method, a paper was folded into four parts with each section illustrated. Then, at the top and bottom of the initial sheet, was a glued sheet containing text and pictures. This top sheet was then cut horizontally in the middle so that the picture beneath would be exposed after lifting the flaps masking it. The popularity of these books quickly grew and acquired different names depending on the content or composition of the illustrations. These names included: "metamorphoses", "harlequinades", and "toilet books".
In the 1800s, readers were introduced to a new style of book in which the illustrations could be removed. Most common were paper dolls that could be dressed up or down in accordance with the story, or pages that could be removed and propped up while reading. During this age, novels that were originally written for adult audiences, such as Gulliver's Travels (1726) and Robinson Crusoe (1719), were being illustrated with a younger audience in mind as publishing houses sought to expand their markets.
By 1860, movable books began to be produced on a mass scale. Dean & Son publishing company was the first to do so. They hired several artists to create new kinds of movable books and pictures. This led to the newest - and perhaps greatest - movable method, utilizing ribbons as a buttress to hold the images up on the page and project the scene--making it come alive.

It is also important to acknowledge the genius of Lothar Meggendorfer who made an appearance at the same time. Meggendorfer is highly honored for his incredibly complex animations. He made it possible for the pull of a tab to animate an entire scene, for example a dinner party's eyes, jaws, arms, and legs could move all at once. Meggendorfer is credited for engineering and illustrating over 200 works, including the scene above.
A Modern View of Pop-Ups
The 1900s saw the creation of yet another kind of movable book, one very similar to the pop-up books of today. With the expertise of S. Louis Giraud, the simple action of turning a page brought illustrations alive, visible from all angles. Another feat was the increase of affordable pop-up books through the use of mass-production and inexpensive materials. By the 1940s, Blue Ribbon Publishing of New York had made its name and coined the phrase "pop-up book."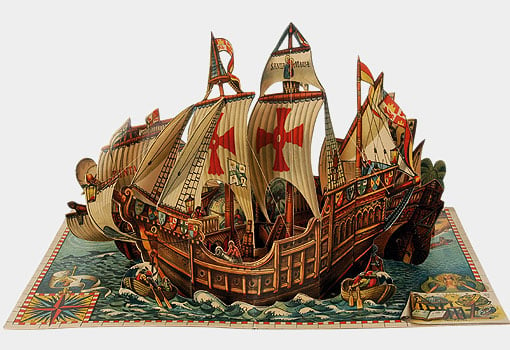 In the mid-1900s, the publication of pop-up books was on the decline until artist Voitech Kubasta designed pop-up books for his employer in Prague. Kubasta's beautiful books did not go unnoticed; however, the Warsaw Pact prevented the United States from importing the books from Czechoslovakia. Not wanting to miss an opportunity, American publisher Waldo Hunt began his own company, Graphics International, and manufactured his own pop-ups. He was so successful in revitalizing the genre that Publisher's Weekly named him "the father of the modern pop-up book industry." His firm, Intervisual Communications (ICI), creates many of the movable books sold in the present day.