It is the first day of preschool. You walk into a classroom filled with unfamiliar faces, clinging to your mom's hand before it's time to say goodbye. You take your seat on the welcome rug, carefully patting down your "first-day of school" dress as you timidly scan the brightly colored toys and trinkets that line the shelves. It doesn't look like a scary place, but it is very different from anything you've known. As you absorb the new world around you, the teacher pulls out a book. You recognize the cover as one you've read before, and as she begins to read you slip into the comfort of a familiar story.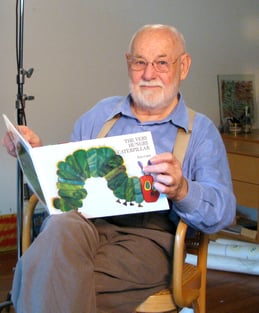 For author and illustrator Eric Carle, creating comfort, understanding, and familiarity were among the top motivators for his books. Coming from a childhood marred by the havoc of war, Carle can empathize with difficult transitions in life. Born in 1929 in Syracuse New York, Eric Carle moved to Stuttgart, Germany with his family at the age of six. As if adjusting to first grade in a different country was not difficult enough, his father was drafted by the German army for WWII in 1939 and did not return until the war's end. After his neighborhood was bombed by the Allies, Carle relocated to Schwenningen, Germany, where he was conscripted to dig trenches at the Siegfried Line at the age of fifteen.
Despite the pain and trauma of his war-torn years, Eric Carle remained faithful to his intuitive love of art. After completing his art education in Stuttgart, Carle moved back to his native New York in 1952 and took a job as a graphic designer for the New York Times. His career was temporarily interrupted when he was drafted by the U.S. Army during the Korean War, and stationed in Germany. Returning to New York after being discharged, Carle returned to his work with graphic design. His first experience with book illustration came when Bill Martin Jr. recruited him to illustrate Brown Bear, Brown Bear, What Do You See? in 1967. The book was wildly popular, and continues to be a staple in classrooms today.
Carle's style is extremely unique, and can be easily identified by a trained eye on a crowded bookshelf. His technique requires the cutting and layering of paper to create bright, multi-dimensional images, made even bolder by the crisp, white background of a clean page. The majority of his publications are rooted in nature, which is reminiscent of the time he spent outside with his father before the war came. Some of his most popular titles include The Very Hungry Caterpillar, The Grouchy Ladybug, and The Very Quiet Cricket.
Carle's books can be found in classrooms all around the world, providing a sense of familiarity no matter where you are. Since it's publication in 1969, The Very Hungry Caterpillar has been translated into 62 languages and sold over 41 million copies. In the words of Carle himself:
"With many of my books I attempt to bridge the gap between the home and school. To me home represents, or should represent; warmth, security, toys, holding hands, being held. School is a strange and new place for a child. Will it be a happy place? There are new people, a teacher, classmates—will they be friendly?"
There is a beautiful sense of security in our beloved childhood stories, and Eric Carle works tirelessly to provide that comfort through his short stories and distinct illustrations.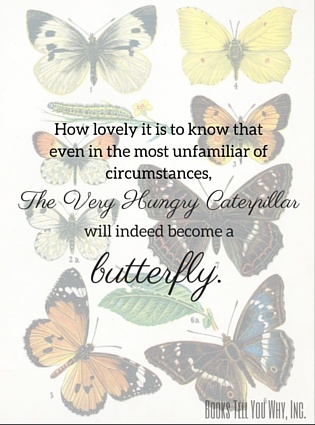 Though there is much to be said of the novelty and suspense brought about by a new story, there is a joy in opening the first page of a book with complete confidence that your beloved characters will be safe. So, as we move through the fabric of life—transitioning from home to school, winter to spring, and childhood to adulthood—how lovely it is to know that even in the most unfamiliar of circumstances, The Very Hungry Caterpillar will indeed become a butterfly.
Image source.