As a college student, I have once again found myself reacting to illustrations with the same partiality that I had as a child. In addition to cultivating strong academic habits and earning a degree, being at a University has challenged me in the lost art of doodling. Three-dimensional flowers curl their way around my history lecture notes, thriving on the lightly-shaded raindrops that pour down from the upper right hand corner of my loose–leaf paper. My work is mediocre at best, but it brings an element of zest to the notes that cling to the page in flat obedience.
If an unprofessional flower sketch can bring beauty to a History notebook, imagine the power of intricate illustrations tucked into well-written books: lifelike depictions of heroes and villains dancing across the pages of stories written throughout history, where words and pictures come together to create a different world in which readers can dwell for hours on end. One such uniquely talented illustrator is Howard Pyle.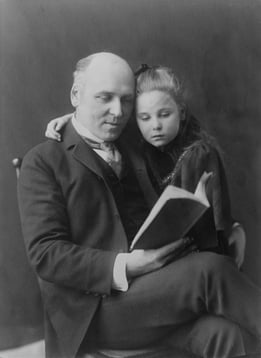 Born on March 5, 1853 in Wilmington, Delaware, Pyle cultivated his artistic talents from an early age. Attending private schools throughout his youth, Pyle was decidedly unmotivated in subjects that did not pertain to creative expression. In those days, it was expected that aspiring artists would continue their studies in Europe. Unfortunately for Howard, that was not financially feasible. Instead, he settled for a trip to Philadelphia to study with F. A. Van der Wielen for three years.
Despite his lack of education from foreign institutions, Pyle went on to become incredibly successful in his trade. Beginning his career with illustrations for Harper's Weekly magazine, one steppingstone after another ultimately led him to be the iconic children's illustrator we know and love today.
Coined affectionately as "The Father of American Illustration," Pyle is frequently recognized for his drawings in The Adventures of Merry Robin Hood, Saint Joan of Arc, Stops of Various Quills, and many more. Perhaps most well-known for his depictions of adventurers of both noble and villainous nature, Pyle seemed to have a soft-spot for explorers. In addition to his illustrations, he was a writer, a dedicated teacher, and muralist.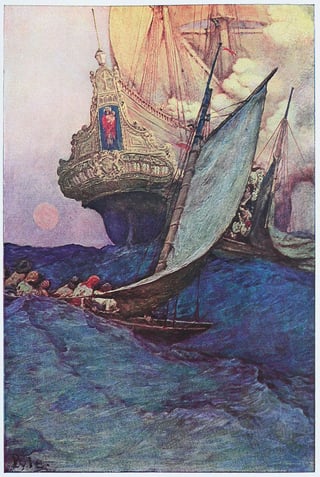 Pyle's style is unique, often blending realism with whimsy in his depictions of the author's characters and their stories. He has a stunning ability to work with a multitude of medias, excelling in everything from pencil sketches to oil paints. After a lifetime of illustrating adventures of others in the United States, Howard Pyle's own story ended on November 9, 1911 in Florence, Italy. Like many a true artist, he made it to Europe eventually.