A few days ago as my family was unloading groceries in the kitchen, some movement along the edge of the tree line caught our eyes. To our delight, we spotted the first fawn of the season, wobbling close to her mother in the dappled sunlight of our backyard. After a few minutes of awed observation, we saw the doe take off, and the fawn curl up behind a tree just off the side of our house. It is not uncommon for mothers to leave their newborn fawns unattended for hours at a time, as fawns do not yet carry a scent that can be picked up by a predator's nose. After snapping a few pictures at a safe distance from the baby, we left her in peace in her hiding spot. My mind also wandered to a well-known young adult book about a boy and a fawn.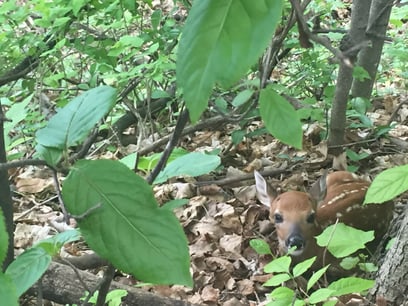 To quell my curiosity, I peeked out the window to check on our fawn several times throughout the day, and she continued to rest there until I myself was going to bed. The next morning, the fawn was gone—picked up by her cautious mother in the middle of the night and off hiding somewhere new. While I was happy that mother and baby were safely reunited and living in their natural habitat (I've seen Bambi enough times to know that is the ideal outcome), I wondered what would have happened if the fawn really was abandoned. One woman explored this very premise in her award-winning young adult book, The Yearling.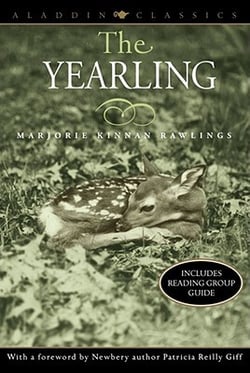 The Yearling was written by Marjorie Kinnan Rawlings in 1938, and tells the story of a young Florida boy and his pet fawn (whom he adopts after the mother is shot in dire circumstances). Like many of Rawlings' other works, the story takes place in a very rural setting and is alive with both the triumphs and tribulations of existing as only a small part of the expansive countryside. The book was promptly selected for the book-of-the-month club, and went on to win the Pulitzer Prize for Fiction in 1939. While this is easily Rawlings' most successful book, it is not her only published novel.
Some of the author's other titles include Cracker Chidlings (1930), Jacob's Ladder (1930), South Moon Under (1933), Golden Apples (1935), Cross Creek (1942), The Sojourner (1953) and The Secret River (1955, published posthumously). While her literary work was celebrated by many, those closest to Rawlings were left disgruntled by her obvious use of their personal information to create characters and topics for her books. The aggravation was so great that a neighbor (Zelma Cason) hit Rawlings with a lawsuit for "invasion of privacy." The lawsuit reportedly caused Rawlings a great deal of emotional strain, and took a toll on her writing.
Despite this bump in the road, Rawlings went on to continue her writing career, taking care not to step on any more toes in her small town.
So if you've been craving a brake from the hustle and bustle of the modern world and want to explore the pages of a quieter world, you might just find refuge behind the cover of a Marjorie Kinnan Rawlings story.