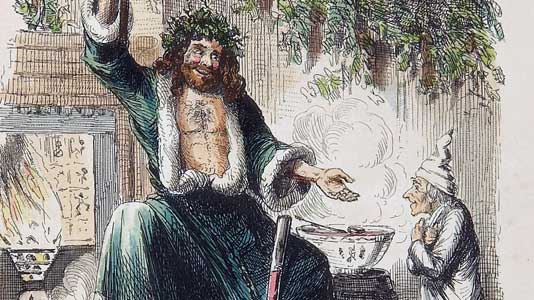 When Charles Dickens passed away in 1870, a young girl in London asked a question that demonstrated just how strongly Dickens' writings were associated with the holiday season and modern Christmas traditions. She asked, "Mr. Dickens dead? Then will Father Christmas die, too?"
The popularity of the holiday has waxed and waned since its inception. While Christmas celebrations were often elaborate during the Middle Ages, by the Victorian era, enthusiasm was in decline. Some Christian leaders had become skeptical of the pagan traditions that persisted in their religious holiday, and many families lacked the resources to celebrate as they had in years past. When Charles Dickens' novel A Christmas Carol was published, it revived much of the nostalgia and tradition we associate with Christmas today.
During a time when financial hardships were commonplace for many American and British households, A Christmas Carol delivered just the right message to bring families back to a holiday that often becomes a celebration of wealth and consumerism. Charles Dickens reminded his readers that a joyful Christmas morning does not require Ebenezer Scrooge's gold, as much as it needs the heart of the poor Cratchit family.
Dickens likely saw himself in the character of family man Bob Crachit. Like Crachit, Dickens was a husband and father of a large family. His wife was pregnant with their fifth child while he penned the novel, and they were struggling to make ends meet. Dickens previous writings were not earning very much, and their living expenses were too high. He began writing A Christmas Carol as a desperate attempt to earn more money and provide for his family.
While financial gain may have been Dickens' original motivation, he quickly found himself swept away by the story. When describing the writing process, he said he "wept and laughed, and wept again," and he "walked about the black streets of London fifteen or twenty miles many a night when all sober folks had gone to bed." He believed in his work so passionately that, despite his financial situation, he paid for production of the book out of his own pocket after disagreements with his publishers. Hoping to make his work more affordable to the masses, he also lowered its cost to only five shillings.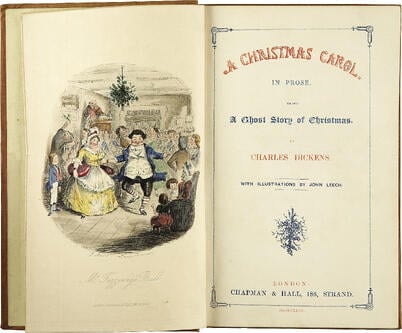 A Christmas Carol was released during the Christmas season of 1843. Although its high production cost and low selling price did not bring in a lot of profits, it was an immediate success -- and it made a permanent mark on how Christmas is viewed and celebrated in modern times. The vocabulary has crept into today's conversations, with a "Scrooge" being someone who refuses to get in the holiday spirit, and "Tiny Tim" being any innocent in a vulnerable situation. Most importantly, every time this piece of literature is read or displayed on the silver screen, it reminds us of a vision of Christmas that has little to do with displays of wealth, and instead focuses on loved ones and the joy of an act of charity.