Scots take their celebrations seriously. Food, drink, music, and dance are staples in almost all Scottish shindigs, and these elements of Scottish festivities are on no greater display than in the annual Burns Night gatherings to celebrate the life and work of famed Scottish poet, Robert Burns.
Also referred to as Burns Suppers, Burns Night celebrations have been common across Scotland and Northern Ireland since the first Burns Night commemoration in the early 1800s, not long after Burns' death in 1796. Burns Nights also became increasingly popular in the U.K. and New Zealand during the 19th Century in large part because Burns' nephew, Thomas Burns, is considered one of New Zealand's founding fathers.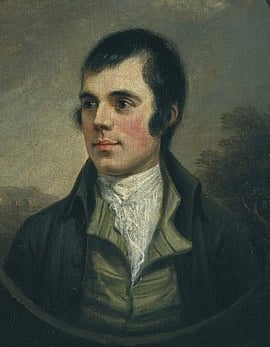 And Burns himself, though not quite a founding father, certainly holds quite the place among Scottish culture. A poet and lyricist, Burns is widely considered the national poet of Scotland. A pioneer in the Romantic poetry movement, Burns also traveled extensively throughout his home country collecting and preserving folk tales and songs, often reinterpreting or adapting them for his contemporary audiences.
A lover of Scottish heritage, whisky, and haggis—a savory meat pudding or pie associated with Scottish cuisine in large part due to Burns' 1787 poem, An Address to Haggis—Burns left an indelible mark on the cultural landscape of his homeland, one his friends and loyal followers were determined to keep alive long after the master poet's death.
The First Burns Night
Burns died in 1796 in the small Scottish market town of Dumfries after a long-standing battle with a weak and failing heart. At just 37-years-old, the news of Burns death sent shockwaves throughout the country which immediately mourned the loss of a national and international icon of arts and letters.
On July 21, 1801, to mark the fifth anniversary of his passing, friends, former students, and fans gathered at Burns' cottage for the first Burns Night celebration. Held on what was thought to be Burns' birthday—it was later discovered Burns was born January 25, which is the date for most Burns Night celebrations today—the first Burns Night gathering was a small, intimate affair featuring family and friends sharing remembrances of the poet, whisky, and a hearty meal of haggis and potatoes.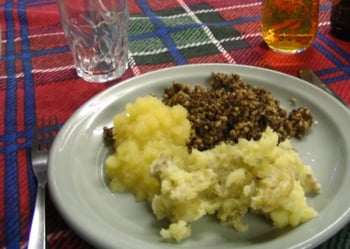 The tradition of Burns Night gatherings quickly spread across Scotland. While some celebrations maintained the intimate, informal atmosphere of that initial celebration, others morphed into elaborate, eloquent occasions, featuring multi-course meals and professional music ensembles, and some even led to the creation of Burns clubs: groups whose sole purpose is to preserve and advocate for Burns' work and influence on Scottish cultural concerns, literary and otherwise.
The Anatomy of a Burns Night
Large or small, formal or casual, nearly all Burns Night celebrations conform to the same manner of activities and rituals. While there are some variances in scale or scope given the region or make-up of the organization hosting the event, most all Burns Night gatherings feature whisky, a haggis dinner, and recitations of Burns' work, both lyric and poetic.
Other common Burns Night activities include:
Piping of the guests: A musical introduction to the evening where a piper or an ensemble of pipers play traditional Scottish music as guests enter the dining room.
Welcoming speech: After the guests are seated, the host for the evening makes a brief speech about the celebration's history and legacy, followed by a group recitation of Selkirk Grace, a traditional Scottish Thanksgiving blessing.
Piping of the haggis: The main course of haggis is presented to the guests while a piper or ensemble of pipers once again plays a series of traditional Scottish folk songs.
Address the haggis: Perhaps the most storied tradition in any Burns Night celebration, a designated guest will recite a brief speech or even a Burns poem after the haggis is presented. Most addresses in some way reference Burns' classic poem, An Address to Haggis, which Burns wrote as a tribute to this storied dish.
Scotch whisky toast: Immediately following the address, all attendees raise a glass of Scotch whisky to the haggis in honor of Burns' contribution to Scottish literature and culture.
Immortal memory: Usually following dinner, the host or guest of honor takes center-stage to recount a specific memory or aspect of Burns' life that is of great significance or import depending on the context of the celebration, whether it's the location, year, or other meaningful element.
Addresses to the lassies: Often a light-hearted or satirical portion of the evening, the host gives a humorous speech on his views of the night's female contingent, often followed by another Scotch whisky toast.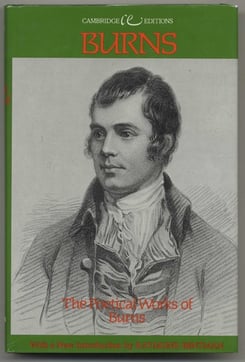 Reply to the lassies: A female attendee provides a rebuttal of sorts to the address, often lampooning the host or guest of honor, which is yet again accompanied by a Scotch whisky toast.
Works by Burns: The final segment of most Burns dinners, attendees recite specific Burns' poems or songs. These recitations often include sing-alongs or call-and-response elements whereby the entire party engages with the poem or song at-hand.
Closing: All attendees take hands for a rendition of Burns' 1788 poem Auld Lang Syne, a New Year's Eve staple in America and one of the most famous Scottish songs Burns collected and preserved during his travels.