For several years now, Cormac McCarthy has received his due as one of the best living writers around. However, he has never had the reputation of being a particularly accessible writer. If you've had trouble reading McCarthy's work, you're not alone. Even Harold Bloom, one of today's most eminent readers, confessed to two false starts reading Blood Meridian. The evocative power of the novel's violence, Bloom said, was difficult to bear. And indeed, as a distinct writer, McCarthy's work can require a certain sensitivity and attentiveness to behold. Yet despite its difficulties, legions of Cormac McCarthy's fans will assure you the extra effort the work requires is well worth it.
Still, it's not as if McCarthy's fiction comes out of nowhere. "The ugly fact is that books are made out of books," he said in one of his rare engagements with the media, "the novel depends for its life on the novels that have been written." McCarthy has drawn considerable influence from the likes of Faulkner, Joyce, Melville, and to lesser extents, writers like Dostoevsky and Flannery O'Connor. His books are heavily researched. McCarthy also makes a point to visit the location he plans to set his books, even if it's only a border crossing.
The Orchard Keeper, Outer Dark, and Child of God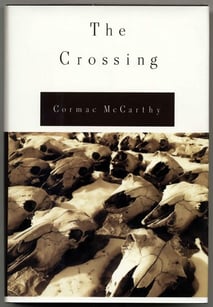 The Orchard Keeper (1965) is McCarthy's first book. The original New York Times review accused its author of being "sorely handicapped" by an infatuation with Faulkner. While McCarthy may have still been sloughing off his major influence, Orchard Keeper nonetheless shows the author as he begins to find the themes he will touch for his entire career. The novel grapples with violence and innocence, all in McCarthy's bucolic setting and distinct prose. In Outer Dark (1967) and Child of God (1973), McCarthy finds even more gruesome and grotesque subjects to explore. Violence and perversity are almost always in the foreground. Outer Dark offers its readers incest and a harrowing scene of infanticide, while Child of God introduces an outcast whose favorite pastime is necrophilia. McCarthy proved himself the righteous inheritor of the Southern gothic, and filled it with even more terrible monsters.
Suttree
Suttree (1979) is the closest McCarthy comes to biography in his work. It is also the last book he set in Tennessee, before moving his stories to the deserts of the West. The book's eponymous protagonist has shunned the life of his prosperous family to live off the polluted river. He fishes, drinks, and hangs out with the dregs of the earth. McCarthy, when speaking of a familiarity with this sort of world, says most of the friends he had from that environment are dead. "I was always attracted to people who enjoyed a perilous life style," he said. McCarthy's ecological narration is at full force in this work: "Fabled sturgeons with their horny pentagonal bodies, the cupreous and dacebright carp and catfish with their sprueless underbellies." Suttree has so captured river life in Knoxville, that its inhabitants are said to fight over who provided the inspiration for its characters.
Blood Meridian
This stunning novel (1985) is considered to be the author's best. It is often included on any list of the best novels of the 20th century. It has been called the most violent book since The Iliad. It follows "the kid" through his crusade with the Glanton gang, a group of Indian scalpers who make bloodshed wherever they go. Everyone is culpable; everyone is the same in this epic and blood-drenched Western. McCarthy introduces one of the greatest characters of the last one hundred years in his enigmatic Judge Holden, a hairless brute who is essentially war incarnate. "War is the ultimate game," the Judge explains, "because war is at last a forcing of the unity of existence. War is god." If you are able to brook the graphic violence of Blood Meridian, you will be rewarded with a reading experience like no other.
The Border Trilogy, The Road, and No Country for Old Men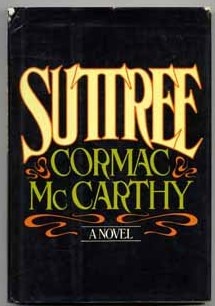 The Border Trilogy, consisting of All the Pretty Horses (1992), The Crossing (1994), and Cities of the Plain (1998), marks a more approachable shift in McCarthy's work. It follows John Grady Cole and Billy Parham, two young cowboys, as they make their life around the U.S.-Mexico border in the '50s. There's a good share of romance and adventure in store for its characters, and it is sure to satisfy a reader simply looking for a good cowboy story. Good fortune, of course, does get interrupted by a good share of violence and slaughter. These are McCarthy books, after all.
McCarthy's two most recent novels, The Road (2006) and No Country for Old Men (2005), have both been adapted to critically acclaimed films. No Country for Old Men won the Best Picture category at the Oscars. McCarthy granted one of his rare interviews, this time on television, with Oprah, in the wake of his mounting popularity in the last decade. While readers might be surprised by the recluse's charm, McCarthy still maintains his reticence, and insists that everything he could say about a book is already on the page.
If you want the grand experience of a Cormac McCarthy book, there are no shortcuts. You're going to have to read it yourself.