Crime and suspense novelist John D. MacDonald published more than 78 books, with more than 75 million copies in print by the time of his death in 1986. Among his varied achievements, his novel, The Executioners, was adapted into the Hollywood film Cape Fear. Novelist Stephen King called MacDonald "the great entertainer of our age, and a mesmerizing storyteller."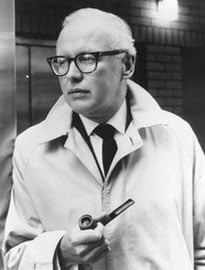 Born in Sharon, Pennsylvania in 1916, McDonald was ten when his family moved to Utica, New York. Two years later, he suffered from scarlet fever and mastoiditis, and as an escape during the months spent bedridden, he delved into reading. This period of confinement sparked MacDonald's literary interest.
Intending to follow in his businessman father's footsteps, MacDonald studied business at the Wharton School at the University of Pennsylvania yet eventually dropped out. Later, he enrolled at Syracuse University where he met his future wife. Soon after graduating from Syracuse in 1938, MacDonald earned an M.B.A. from Harvard University.
But MacDonald didn't last long as a businessman, losing two jobs because of his "outspoken" nature. In 1940, strapped for cash, he enlisted after being offered a job in the U.S. Army.
His army career took him to Burma and China, and it was during his overseas visits that he began writing short stories. By 1945, MacDonald left the army as a lieutenant colonel and began to write in full force.
But it wasn't until 1949 that MacDonald's career began to flourish; shortly thereafter he moved his family to Sarasota, Fla. The longer he stayed in Florida, the greater an environmental steward and advocate he became. Environmental protection was one of the dominant themes in his novels as Florida became the backdrop for his fiction, including a series of hardboiled mysteries featuring the protagonist "Travis McGee." MacDonald set his McGee novels in south Florida where the character lived aboard a houseboat he had won in a poker game.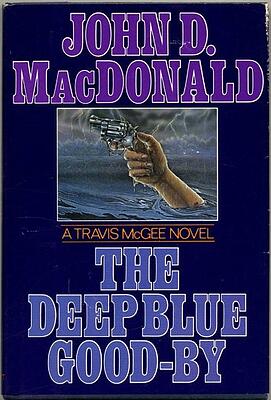 McGee first appeared in the 1964 novel The Deep Blue Good-by and last in the 1985 novel, The Lonely Silver Rain. The character earned his living recovering money and valuables from thieves and con-artists.
The Washington Post wrote of the novelist and his famed character McGee:"...sharp, seamless prose, bull's-eye aim, romanticism and cynicism playing subtly off each other. The writer is MacDonald but the speaker is McGee, who is the narrator of all the novels in the series. The relationship between McGee and his creator is intimate, fascinating and a bit difficult to unravel."
MacDonald received several awards including the French Grand Prix de Litterature Policiere (1964) and the U.S. National Book Award (1980). The author died in 1986 from complications from heart bypass surgery.