On October 1, American author Tom Clancy passed away in Baltimore, Maryland. Renowned for his ability to create stories from the raw material of real-life conflict, Clancy was one of the few authors who built a multi-media empire. Clancy's books found their way into film, television, and even video games.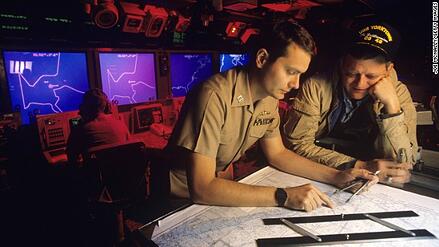 Clancy came to authorship only after working for years in a completely different industry. He wrote his first book, The Hunt for Red October, while working as an independent insurance agent. Clancy sold the book to the Naval Institute Press for only $5,000. Editor Deborah Grosvenor had to convince her colleagues to buy the manuscript, citing Clancy's "innate storytelling ability."
A new genre emerged with Clancy's career: military fiction. Clancy's protagonists, most notably Jack Ryan, are archetypal characters: military men who swoop in to save the day after criminals, bureaucrats, or dictators have wreaked havoc or threatened law and order.
Though critics didn't always appreciate Clancy's work, he was immensely popular among readers. David Foster Wallace even praised Clancy for his ability to include so many details in his books. (In some cases, he may have included a few too many details--see the Slate article below.) President Ronald Reagan also called The Hunt for Red October "my kind of yarn," an endorsement that certainly fueled greater interest in that novel and Clancy's subsequent works.
The Hunt for Red October, Patriot Games, Clear and Present Danger, and The Sum of all Fears were all adapted into very successful movie tie-ins. Like James Bond, Clancy's protagonist Jack Ryan has been played by a series of notable Hollywood actors. A number of Clancy's books have also been adapted for video games, expanding his sphere of influence to include a generation too young to remember the Cold War.
In later years, Clancy worked with a series of collaborators to maintain his literary brand. Enthusiasts often refer to books written by these ghostwriters as "apostrophe books." At first, Clancy made no mention of these writers' role in the books, simply thaning them for their "invaluable contributions to the manuscript" in his headnotes. Dead or Alive was written under Clancy's auspices by Grant Blackwood, who's also collaborated with Clive Cussler.
More on Tom Clancy from Around the Web