Possession is A. S. Byatt's most widely read novel; it won the Man Booker Prize in 2009 and made Byatt famous. This doesn't surprise the British author who claims, "I knew people would like it. It's the only one I've written to be liked, and I did it partly to show off. I thought, Why not pull out the stops, why do this painstaking observation . . . why not write about the 19th century! I actually paced it for the first time with the reader's attention span in mind. There is very little life in 'Possession': it's all art."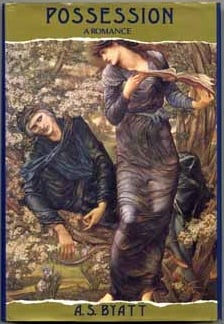 This thought, which hardly seems a compliment to us readers, does not come as a surprise from a woman who claims to be "more interested in books than in people." However, interested or not she certainly seems to understand them.
She came by her insights honestly. Surviving a "deeply unhappy" childhood, with a harsh mother whom Byatt's sister says "thought life was boring and disappointing," she learned early what a perceived cage can do to a person. She felt her mother's frustration at being stuck at home "destroyed and damaged something essential in [her]." Late in college she wrote, "We [female students] wanted weddings and romantic love and sex, and we wanted to be normal. We had fought, much harder than the men, who outnumbered us eleven to one, to study at Cambridge, and we were fatally torn…Men could have both, work and love, but it seemed that women couldn't." The theme of an intelligent woman struggling to be taken seriously and find balance runs through many of her works.
Later, Byatt's life was touched by unthinkable tragedy when her eleven-year-old son was killed in a car accident. His death and her grief clearly touch much of her work but she writes of it most hauntingly in her poem "Dead Boys." The lines, describing a boy who is constantly present to his mother, end with this heartbreaking image:
And the boy who leaned his head
On my shoulder in a bus.
He slept so deep, he jerked
And lolled as the bus ground on
Like a puppet, like a sack,
But he was warm that week —
My cheek was damp with his warmth —
And five days later cold.
Byatt addresses her son's death both in interviews and through the character of a grieving mother in her short story, "The July Ghost." She describes mourning as something that "will go on and on till the end of time, it's a continuous present tense." However, she explains that she does not write as therapy. Composing pieces such as "Dead Boys" or "The July Ghost" do not help her process her grief. Rather she says, "I think of writing simply in terms of pleasure. It's the most important thing in my life, making things." Regardless of her motivation for writing such pieces, her deep understanding and sympathy for human suffering and grief came at a high price.