Alice Walker is a critically acclaimed and best selling author, poet, and a political activist, champion of progressive ideals. She gave a strong voice to women, particularly women of color, and reignited interest in author Zora Neale Hurston.
Born on February 9, 1944 in Putnam County, Georgia, Walker is one of eight children. Her mother worked as a maid and her father was a sharecropper. Despite Jim Crow laws and the era's conventional wisdom that blacks need not be educated, Walker's mother enrolled young Alice in school and worked to ensure her daughter received a college education. Walker began writing at the age of eight and grew up listening to the oral histories of her family.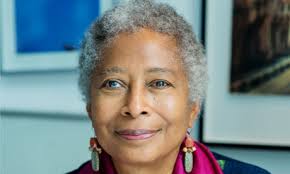 Walker was high school valedictorian, and attended Spelman College on scholarship, where she met Dr. Martin Luther King Jr., wrote a book of poetry, and became involved in civil rights activism, inspired in part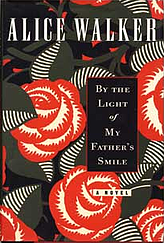 by professor Howard Zinn. She later transferred to Sarah Lawrence and graduated in 1965. She worked as a writer-in-residence at several Southern colleges and continued her activism, especially with programs for children.
Walker met Jewish lawyer Melvyn Rosenman Leventhal and they were married in 1967. They lived in Mississippi at the time, and were the first interracial couple in the state. They had daughter Rebecca in 1969, and split up by the mid-1970's. In the 1990's, Walker was for a time romantically linked to singer songwriter Tracy Chapman.
Walkier published her first novel, The Third Life of Grange Copeland, in 1970, and became an editor for Ms magazine, where she wrote an article on Zora Neale Hurston which ignited interest in the formerly forgotten Florida writer.
Walker's second novel, Meridian, about the civil rights movement in the South, was published in 1976. The Color Purple was published in 1982 and won the National Book Award and the Pulitzer Prize, making Walker the first African-American woman to win the latter. The novel was adapted into a film in 1985, and a Broadway musical in 2005.
In 1984, she co-founded Wild Trees Press, which published stories with a focus on the black female experience.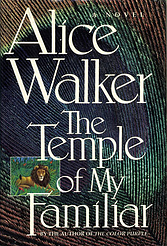 The Temple of My Familiar was published in 1989, and 1992's Possessing the Secret of Joy revisits a minor character from The Color Purple and addresses the topic of female circumcision.
In 2003, Walker was arrested with many other writers outside of the White House protesting the start of the Iraq War. She wrote about this in her 2006 collection We Are the Ones We Have Been Waiting For.
In 2013, Walker published the novel The Cushion in the Road and a book of poetry, The World Will Follow Joy. A true luminary of American literature, Walker has become a popular figure among readers, scholars, and collectors of modern first editions.