Eoin Colfer writes fantasy adventure books intended for kids in grades 5-9. His books appeal to a much broader audience, but that is the target group. Colfer grew up in Wexford, on the Southeast coast of Ireland with four brothers. His father was an artist, elementary school teacher, and historian. His mother was a drama teacher and stage writer. He was encouraged to appreciate the arts and writing and began writing in elementary school by composing Viking stories based on the history he was being taught. His first work was a class play called Norse Gods. He got a university degree from Dublin University and returned to Wexford to teach primary school. He and his wife spent 1992 to 1996 working in Tunisia, Saudi Arabia, and Italy. He started publishing books in the late 1990s and after Artemis Fowl appeared in 2001, he quit teaching and has been writing full time ever since.
Artemis Fowl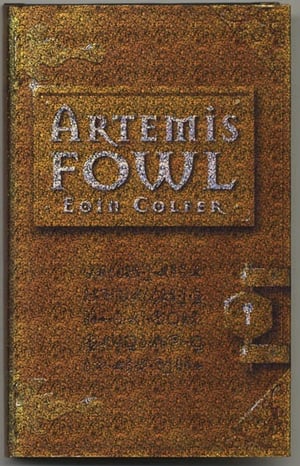 There are eight Fowl books, published between 2001 and 2012. It is reported that the author described the first of the series as Die Hard with fairies, and reviewers tend to see that as a fair description.
Artemis Fowl is described as the most ingenious criminal mastermind in history, at age 12. He hatches a plot to divest the fairies of their pot of gold. His plan involves kidnapping and ransom. From start to finish the book is a 21st-century romp through and through. Colfer let his imagination run while combining folklore, fantasy, and cyberpunk in a book that is sometimes compared as doing for fairies what Harry Potter did for wizardry. This is not a gentle frolic. The storytelling has adequate attitude to make it a seriously cool read for anyone over the age of 10.
After a series of delays, the first Artemis Fowl movie is set to open in May 2020. More about the movie after a quick survey of some other Eoin Colfer books.
The Supernaturalist (2004)
Cosmo Hill is unwanted by his parents. He is shipped freight class to the Clarissa Frayne Institute for Parentally Challenged Boys. Here he is put to work testing dangerous products. Cosmo soon realizes if he doesn't escape he will die. He seizes his chance and breaks out with the help of a motley crew of kids, the Supernaturalists. This is a motley crew who all have the same special ability to see supernatural Parasites. These are creatures that feed on the life force of humans. They patrol at night, hunting Parasites in hopes of saving humanity—or so they think.
The world they inhabit as created by Colfer is eerie and captivating. It has nonstop action, humor, and an enthralling cast of characters. The themes in the book revolve around friendship and loyalty. Some disdain Colfer's writing and feel it's a stretch to call it literature. But many others feel it's written well enough and just too much fun to not simply enjoy the read.
Half Moon Investigations (2006)
This is Colfer without the mania of Artemis Fowl. The message here is some people aren't who they appear to be, for better or maybe for worse. It's a good comic mystery starring Fletcher Moon.
Fletcher has always been unlike other kids, starting with having a humiliating nickname, Half Moon, because he's short. But the real reason he's different is he's always had a knack for mysteries. He graduates at the top of his internet class and is certified as the youngest detective in the world. Then a classmate hires him to solve a crime and his coveted badge is stolen. All the evidence he finds leads him to the Sharkeys, the town's infamous crime family. Fletcher finds evidence of a conspiracy, but before he can solve the case, he's framed. With some unexpected help, he has 12 hours to find the true guilty party or he will be the guilty party.
And Another Thing... (2009)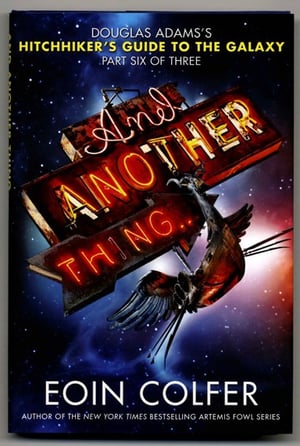 This is the sixth and last installment of The Douglas Adams' Hitchhiker's Guide trilogy. It was published on the 30th anniversary of the original Hitchhiker's Guide to the Galaxy. Colfer initially thought the idea of another author contributing to the series was blasphemy, but he came to see it as a wonderful opportunity to work with characters he had loved since childhood. Adams's widow fully supported Colfer, saying he was the best person to transport Arthur, Zaphod, and Marvin to new pastures. Readers and critics gave the book somewhat mixed reviews.
Some declared that Colfer's writing was the best post-mortem impersonation ever and a well-done continuation of Adams's story. To them, it didn't matter if some of the jokes were a bit cliched. On the other hand, there were those who said it was simply more of the same and that Colfer failed to present a unique impression of his own. It would seem that if you're a fan of Hitchhiker's it was enough that Colfer came in and credibly finished Adams's work.
Artemis Fowl, the Movie (2020)
After almost two decades the movie, directed by Kenneth Branagh, with a cast that includes Judi Dench, Josh Gad, and Colin Farrell, will be released by Disney in late May. The trailer effectively took millions of twenty-somethings back into its world of codes, elves, and farting dwarves.
It has nothing to do with chickens. The 12-year-old criminal mastermind, Artemis Fowl, uncovers an underground world filled with militant elves, paranoid centaurs, goblin gangs, and an organization called LEPRecon, the Lower Elements Police Reconnaissance force.
Artemis breaks out of his evil self as he integrates into the fantasy world below. He becomes more inclined toward friendship, compassion, and decency. He starts off as a cocky antihero who's devoted to his own interests. As the series of books progress, the point is made that heroes and villains aren't always who you think they may be.
The movie is presented as an adaptation of the first book, but there is a significant difference. In the book, Artemis is a cunning little person who is well integrated into the criminal lifestyle. In the movie, he starts out more innocent and gradually becomes that bad guy as he finds out what his father really did and he comes to grips with the whole enterprise.
The question of how excited to be about the movie depends on if it can capture the tough moral questions that were compellingly presented in the books. But it will still have those farting dwarves.