Born on January 14, 1957, Anchee Min was raised in Shanghai, China, learning how to write "Long live Chairman Mao" before writing her own name. Inculcated in the power of Communism and Mao, Min was torn at a young age, being forced to testify against one of her beloved school teachers for her reconnaissance.
Min excelled in school, especially writing. However, at the age of seventeen, she was sent away to work in a labor camp. Her time at the camp left her with a debilitating spinal problem, and it robbed her of her autonomy. Though she felt she would be trapped there forever, Min was finally released when she was discovered by talent scouts while working in a cotton field. The talent agents were looking to create a propaganda film for Madame Mao, and Min was selected due to her "proletarian" appearance.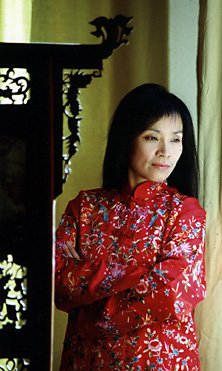 However, before the film was finished, Chairman Mao passed away. His wife, Jiang Qing was blamed for the uprisings that followed and was arrested and sentenced to death. Min's association with the Mao organization through the film made her an outcast, and she was bullied and forced to publicly adhere to the new government's imposed political, social, and cultural ideals.
Min's isolation from Chinese society compelled her to find something greater for herself. With the help of actress Joan Chen, Min left China in 1984 to start a new life in Chicago, Illinois. She did not speak any English before moving to the United States, but with her passion for learning she was able to teach herself English with the help of the popular children's television series "Sesame Street" and "Mr. Roger's Neighborhood." She attended The Art Institute of Chicago, where she graduated with a Masters of Fine Arts and in 1994, she made her literary debut with the release of her first memoir, Red Azalea.
Red Azalea tells the story of living in China during the Cultural Revolution. She begins her story with her 1960's childhood in Shang Hai, her appreciation for education, and her blossoming realization of the true horrors of Maoism. She tells her story of how she came about to the United States and spares no details.
Min continued to write, feeling that the English Language gave her a freedom that her native tongue would not allow. She published six novels including Becoming Madame Mao and Empress Orchid, both of which were National Best Sellers.
Her most recent release, The Crooked Seed (2013), begins where her first memoir left off, telling her story as a Chinese immigrant acclimating to American culture and raising a daughter in America. Her beautiful display of raw emotion, historical accuracy, and honesty continues to astound readers and tells a timeless story that touches the heart of every reader.