We love rare books. We love librarians. We love Rare Book School. As a result, we're excited to be able to send one deserving librarian to an RBS course for free. After reading through dozens of noteworthy applications, Books Tell You Why is delighted to announce the winner of our first annual Rare Book School Scholarship: Rosemary K. J. Davis. Read on for more information about Davis's work, and please join us in congratulating her on her accomplishment.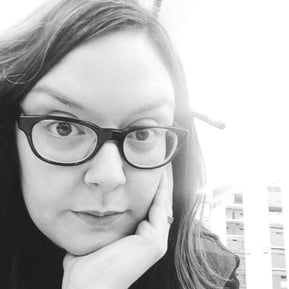 Rosemary K. J. Davis earned her Master of Science in Library and Information Science with an Advanced Certificate in Archives from the Pratt Institute in New York City where she graduated with distinction in 2011. Previously, she graduated with honors from the Bachelor's program in Liberal Studies at the New School where she also completed coursework in the Master of Arts program in Liberal Studies.
Currently, she is the Samuel French Collection Processing Archivist at Amherst College in Amherst, Massachusetts. She is working in a grant-funded position while she delves in to the Samuel French Collection. Davis frames her work as follows:
"I am working to arrange, describe, and promote the incredible wealth of theatrical publications and documentation contained in the Samuel French Collection. This collection is unwieldy, undiscovered, and immensely important. The books, documents, and ephemera that populate these hundreds of boxes will help illuminate scholarship related to the rise of amateur theatrical performances, international copyright, as well as the expansion and development of British and American publishing concerns between 1830-1950."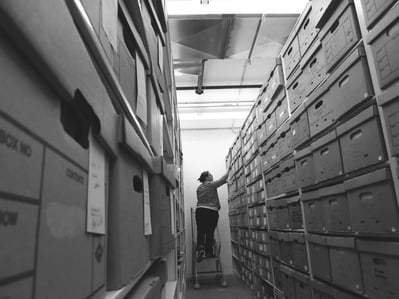 A worthwhile endeavor, indeed! What's more, Davis strives to further enhance her understanding of the works she handles in order to make the French Collection materials more accessible both to scholars and theatrical communities. She recently presented her work at the joint conference of the American Society for Theatre Research and the Theatre Library Association in Portland, OR, and she also presented on the French Collection at the "Performing the Archive" conference at the National University of Ireland in Galway, Ireland. She is an active member of the Theatre Library Association as well as SAA, RBMS, and the New England Archivists.
In support of Davis's application, Mike Kelly, Head of Amherst College Archives & Special Collections said, "[Davis's] commitment to teaching, learning, and general community-building is exactly the sort of energy we need in this profession."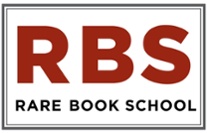 We're thrilled to send Rosemary K. J. Davis to Rare Book School and excited to see how she uses her RBS experience in her current and future work and for the greater good of the library and special collections community. Congratulations, Rosemary!
We'd like to thank all those who applied for our 2016 RBS Scholarship for their interest and efforts. Please stay tuned for more updates and opportunities from Books Tell You Why.
*Photos courtesy of Rosemary K. J. Davis.