At a certain point, it seems unusual that any writer should ply his trade in Ireland. Of the small nation's four Nobel Prize winners in literature, two, Samuel Beckett and George Bernard Shaw, conducted most of their literary careers abroad in France and England, respectively. And, of course, that pair barely scratches the surface of Irish writers' propensity, as a group, to work in self-imposed exile. Where literary titans like James Joyce and Oscar Wilde could scarcely abscond from the Emerald Isle quickly enough, the Hibernian countryside proved an ideal starting-point for one of England's most idiosyncratic novelists: Anthony Trollope.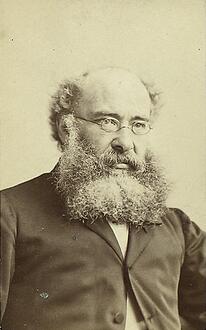 Trollope, best known for his 'Chronicles of Bersetshire,' a series of novels set in the fictional county of the same name, was born in London in 1815 to a well-bred but struggling barrister. The family's marked decline in means over the generations led Trollope, as a young man, to take a position as a clerk with the General Post Office. He was, by all accounts, poorly suited to the job. Between an insubordinate streak and perpetual punctuality issues, Trollope found himself on the verge of being sacked, which is to say nothing of the considerable debts he had simultaneously accrued.
Seeing an opportunity to escape his professional woes, Trollope soon took a position as a Postal surveyor in central Ireland. Whether it was the passage between Ireland and the rest of the world that stoked his creative faculties or just a fortuitous change of scenery, Trollope began to find his footing as a writer. Where, in England, he had produced just a few chapters of what would become his first novel The Macdermots of Ballycloran (1847), Trollope entered into a sustained period of prolific writing while in Ireland, eventually publishing four novels that focused on questions of lower class Irish life. Though the setting of these works was off-putting to much of the English reading-public, they ultimately proved invaluable steps toward Trollope's establishment as an author of considerable note.
Though the prolific wordsmith would eventually move back to London, his time in Ireland was, perhaps more than a source of inspiration, a symptom of the wanderlust that made Trollope's work possible. If, as Henry James asserted, Trollope's (much-debated) greatness came from his capacity for observing the rich minutiae of everyday reality, then Trollope's travels take the form of a kind of crucial research into the reality he so scrupulously documents. Though the man's most beloved work confines itself to one fictional English county, his wanderlust took him not just to the Emerald Isle, but to Belgium, Australia, and Iceland, all of which is to say nothing of the time he spent riding around England and Wales on horseback for the postal service.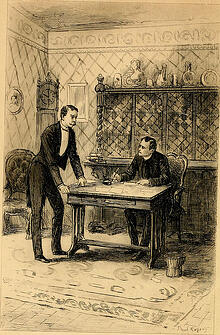 A record of Trollope's wanderlust can be found not just in the lively portraiture that defines his works, but in a late work of non-fiction entitled How the "Mastiffs" Went To Iceland (1878). The title refers to the travelers (himself and illustrator Mrs. Hugh Blackburn included) aboard a ship called the Mastiff. Already, in fashioning his moniker out of a dog-breed, Trollope has put his sense of playful humor on display. As the narrative progressives, readers gain keen insight into some of Trollope's most unique characteristics. When his companion wonders how a "rough-spoken good sort of fellow" had managed to "write such good novels," the audience is left to wonder along with her. He displays not just the skills for which he was known but the grand and life-affirming personality that made them possible. Moreover, when, on the final page of the text Trollope muses on the unique sadness that follows a return voyage, we are granted not just an insight into the pain of the nostos, but a sense of closure that uprooted writers like Joyce and Wilde could never provide.