Whether you already have a collection of paperback books or are thinking about starting one, you might be wondering if paperbacks have any market value. The answer to that inquiry depends on a wide variety of factors, from the scarcity or rarity of the paperback book to the history of the specific paperback book as a physical object. For example, was the paperback owned by a prominent writer, or was it inscribed by a notable author? Or, is the paperback part of a limited first edition of the book? Is the book printed on handmade paper? These are just a few of the questions you might consider when evaluating the market value of a paperback book. While you might assume that hardcover books with dust jackets have greater market value than paperback books, this is not the case. While hardcover books with intact dust jackets can have significant market value, the same is true for many paperbacks.
Rare and Limited First Edition Paperbacks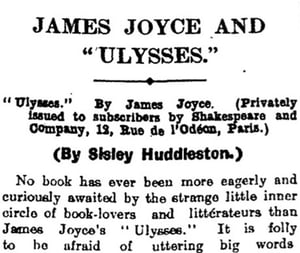 Often, when people hear the term paperback book, they think of mass-produced novels designed to be produced cheaply, sold inexpensively yet still at a profit, and devoured by hundreds of thousands of readers. Certainly, this type of paperback does exist, but the description does not come close to describing all paperback books. Indeed, many of the rarest and most valuable books published in the twentieth century are paperback books.
Let's start with James Joyce's Ulysses (1922). As you may know, Ulysses is Joyce's modernist masterpiece, originally serialized in the journal The Little Review between 1918 and 1920, and later published wholly by Shakespeare and Company in Paris. The novel traces Leopold Bloom, the protagonist, throughout a single day in Dublin, Ireland on June 16, 1904. You may know the date since it is now celebrated as "Bloomsday," with annual celebrations of Joyce and his well-known protagonist.
Now, back to the first edition. The first printing included only 100 copies on Dutch handmade paper, and each were signed by the author. The paperback was designed with creamy blue printed wrappers. These first editions, especially those on Dutch handmade paper are incredibly rare. The entire run consisted of 1000 copies total, with the remaining 900 editions on various types of paper. If you're able to locate one of the editions numbered between 1-100, you should expect to pay in the range of hundreds of thousands of dollars. When these have appeared on the market, they've sold for upwards of $250,000. Other numbered copies of the first edition are likely to sell for around $100,000.
While it's not nearly as valuable as a first edition of Ulysses, the first edition of Franz Kafka's The Metamorphosis [Die Verwandlung] is also an extremely rare and valuable paperback book. The first edition, published by Kurt Wolff in Leipzig in 1915 (dated 1916), is a paperback with illustrated wrappers. The image on the wraps is a black-and-white sketch of a figure gripping his face—a representation of the protagonist Gregor Samsa. If you can locate one of these copies, you should anticipate paying as much as $10,000.
There are many other extremely valuable paper first editions, too. For example, the first book-form edition of The Master and Margarita [Мастер и Маргарита], published by YMCA Press in Paris in 1967, often sells for thousands of dollars, sometimes fetching as much as $10,000. Paperback editions of early Pablo Neruda works are also extremely valuable. The Nascimento press first printing of The Heights of Macchu Picchu [Alturs de Macchu Picchu] was printed in an edition of only 1000 copies with each numbered and signed by Neruda. The book has illustrated paper wraps. These tend to sell for several thousand dollars at a minimum. First editions of Neruda's Spain in the Heart [España en el Corazon]—the first edition after the extremely rare battlefield edition—are also very valuable. This Ercilla first edition contained only 2000 copies and included illustrations throughout the text. Like the other books mentioned here, it's a paperback book. It has gray printed wraps.
Mass-Marketed Paperback Collections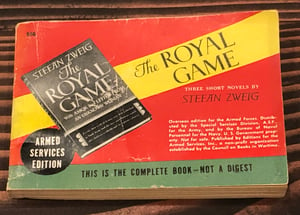 Of course, you can also have rare paperback book collections that do not necessarily have the kind of market value of some of the individual paperbacks we just referenced. For example, some collectors have vast and fascinating collections of some of early American pulp fiction. For example, collections of Pocket Books objects, which came into existence in 1939, represent the earliest mass-market paperback books in the United States. Mass-market paperbacks came into existence in Great Britain just a few years earlier, with the launch of Penguin Books in 1935. Some of these texts, especially when they're put together in a collection, have become quite valuable. As with any book, condition matters. The better the condition, the more valuable the book is likely to be.
Beyond mass-produced paperbacks for the general reading public, another remarkable type of paperback book that has become collectible and valuable is the Armed Services Edition. In case you've never heard of these books, they were designed so that they could fit into a soldier's pocket during World War II. About 123 million of these editions were printed from 1943 to 1947, with more than 1,000 different titles. Many of the American soldiers who landed in Normandy on D-Day in 1944 had Armed Services Edition books in their pockets.
Specific Paperback Books with Distinctive Histories
Even if you do not have a rare first edition paperback of something like Ulysses or The Metamorphosis, or a specific type of paperback that has become collectible, certain paperbacks can still have immense value based on the specific history of that physical object. For example, a mass market paperback of an Owen Wister novel gifted with an inscription, for example, from John Ford to John Wayne during the filming of the Western The Searchers would have seemingly immeasurable value. Similarly, thinking about the Armed Service Edition books, if one of those copies had been in the pocket of, for instance, of Major Richard Winters (whose personal narrative was dramatized in the HBO series Band of Brothers) on D-Day, the history of that specific object would give it significant value.
A book's worth or value on the market, of course, is much different than the personal value it may have to you. Either way, paperback books are certainly worth something, and their value depends on so many different factors. If you're interested in learning the worth of your paperback books, you might consider speaking with a rare book dealer or having them appraised.