"The first climax (…) brought tears to my eyes. There has been nothing like it for years: partly for the actual writing– 'She has left her toys behind but ours go hence with us,' or 'The island rose to meet the dawn,' but partly (still more, in fact) because here we meet a modern author who understands that there may be things that have a higher claim than the survival or happiness of humanity: a man who could almost understand "He that hateth not father and mother" and certainly would understand the situation in Aeneid III between those who go on to Latium and those who stay in Sicily." -C.S. Lewis (on Childhood's End)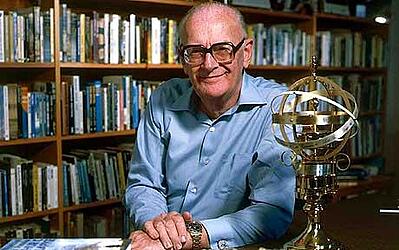 Arthur C Clarke was born on December 16, 1917 in Somerset, England. He was the oldest of four children and found enjoyment in gazing at the stars and reading sci-fi pulp fiction magazines. His family did not have the financial resources to send him to college, so in 1941 he joined the Royal Air Force and worked as a radar specialist during World War II, creating a warning system that contributed to the Air Force's success in the Battle of Britain. After the war, Clarke pursued his interest in math and physics, earning his degree at King's College London.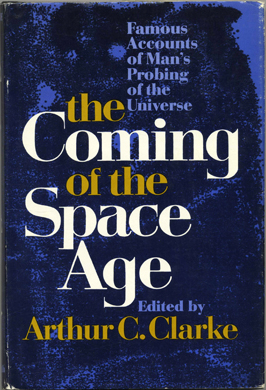 In 1945, Wireless World published one of Clarke's papers entitled "Can Rocket Stations Give Worldwide Radio Coverage?" which presented the idea that geostationary satellites would be ideal for telecommunication relays. Because his writing was so groundbreaking, he is accredited as the inventor of the first telecommunications satellite, which landed him numerous awards and a geostationary orbit named after him. He wrote numerous non-fiction books on rocketry and space flight, most notably The Exploration of Space (1951) and The Promise of Space (1968).
Clarke met and married Marilyn Mayfield in 1953. Their marriage lasted only six months and he never remarried, preferring the company of lifelong friend Leslie Ekanayake, whom he met in Sri Lanka. Although Clarke did not publicize his sexuality, he never denied his lifestyle.
In 1956 Clarke moved to Sri Lanka where he discovered a new scientific interest: undersea exploration. He would continue to write about his underwater experiences throughout the 1950's including The Deep Sea Range. In 1964, Clarke began his collaboration with Stanley Kubrick on 2001: A Space Odyssey, a film describing artificial intelligence, evolution, and extraterrestrial life. The plot was loosely based on his short story, The Sentinel (1951). However; due to the expansion and popularity of the story, Clarke published a novel not long after the movie was released.
In the 1970s, Clarke was presented with a three-book publishing deal, which was unheard of for science fiction writers at the time and shortly after, in 1972, Rendezvous with Rama was published with two following novels in the saga.
In 1988 Clarke was diagnosed with Post-Polio Syndrome and was mostly confined to a wheelchair for the remainder of his life. His limitations did not stop him as he continued to work on the things he loved. He continued to write fiction and non-fiction books and make appearances in movies and television, while remaining active in the scientific community.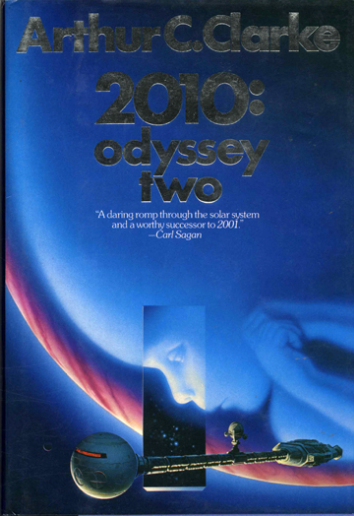 In 2000 Clarke was knighted in his home in Sri Lanka by the UK High Commissioner and was later, in 2005, awarded with the highest civilian honor in Sri Lanka, Sri Lankabhimanya. Clarke passed away in 2008 due to heart failure.
In addition to making ground-breaking achievements for science-fiction writers across the world, Clarke's research in science awarded him not only with "The Clarke Orbit", but an asteroid (4923 Clarke) and a species of dinosaur—Serendipaceratops Arthurcclarkei named in his honour.
Clarke's legacy also includes the Arthur C Clarke Award, which is an award for the best British science-fiction novel written in the previous year. Clarke established the award with a grant in 1987. The award is considered the most prestigious award for the genre in the United Kingdom. The inaugural winner was Margaret Atwood, for The Handmaid's Tale.