Barbara Kingsolver is known for using her creative talent to open the eyes of her readers to global injustices, ranging from environmental to social problems. Drawing upon her own childhood experiences in the Congo, she wrote her most famous work, The Poisonwood Bible. This novel, along with every book she has published since 1993, earned a spot on the New York Times Best Seller list. Kingsolver has also published several essays and poems.
An Unusual Childhood
On April 8, 1955, Kingsolver was born in Annapolis, Maryland. She spent her earliest years in rural Kentucky before her family moved to the Congo to provide vaccinations for small pox and help improve public health. They spent two years there, living without electricity or running water. Kingsolver claims that at the time it was just a "grand adventure in a forest full of snakes and lions, with cobras on the doorstep." But these childhood memories later inspired her to place a high value on global awareness and humanitarian movements.
A Musical Start
Kingsolver's creative spirit first appeared in the realm of music, not literature. She attended college on a classical piano scholarship. It was here that she began a life of political involvement, and she participated in many protests against the Vietnam War.
Her ambitions to become a concert pianist were cut short when she became discouraged by the apparent unlikelihood of achieving her dreams. At this time, Kingsolver switched her major to biology, and she went on to receive her Master's degree in ecology and evolutionary biology.
A Talent for Writing
Beginning a career in science writing at the University of Arizona revealed that Kingsolver had a gift with words and written communication. She also began writing freelance articles for an alternative newspaper. She tried her hand at writing fiction and won a local contest.

Her debut novel, The Bean Trees, was published in 1988. Her first book to appear on the New York Times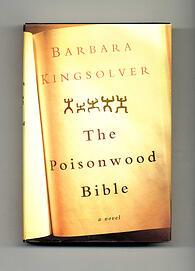 Best Seller list was the sequel of The Bean Trees, titled Pigs in Heaven. It was published in 1993. Both books explore family bonds and the modern culture and struggle of the Cherokee Nation.
A Political Responsibility
All of Kingsolver's works address a bigger issue than just the plights of the individual characters. She was once quoted at as saying, "I don't understand how any good art could fail to be political. Literature is a powerful craft, so we have an obligation to take it seriously."
It is because of this attitude that Kingsolver has won awards such as the National Humanities Medal and the Dayton Literary Peace Prize. She also created and continues to fund the Bellwether Prize for Socially Engaged Fiction, which is bestowed only upon previously unpublished novels that tell a story featuring social justice issues.