Benjamin Franklin founded the ideal of the American polymath. He was a statesman through and through, performing roles as theorist, diplomat, and governor; he was an inventor and famously dabbled in the nascent science of electricity. But the portrait of Ben Franklin the publisher is frequently forgotten or understated. His press eventually became the most successful in the Colonies, printing everything from hardcover volumes to almanacs, newspapers, pamphlets, and even lottery tickets.
We know of only sixteen books that Franklin and his printers bound themselves, due to the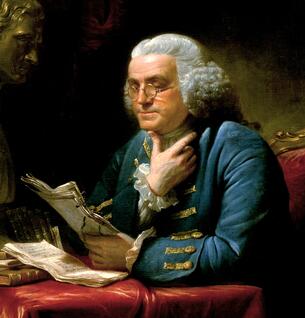 costliness of paper and the materials. At that rate, Franklin published just less than one new title annually, but still it was enough to establish him as the most prolific, and fiscally audacious, publisher of his time. Among his publications were collections of psalms and hymns by Isaac Watts, and a detailed travel account that begins at Gibraltar and ends in the colony of Georgia.
Around 1742, Franklin experimented with printing fiction when he republished Samuel Richardson's Pamela. There was little legal protection for writers at the time, and Franklin did not pay a schilling to Richardson, nor was he technically obligated to. Although Franklin eliminated the author's moiety from his overhead, the book was still a financial disappointment. Novel sales at the time depended on the shifting tastes of the leisure class, and were an unreliable source of income for a publisher.
Of course, Franklin published some books without regard for financial gain. He printed Cicero's Cato Major­, in part to impress its high-status translator, John Logan. An edition of the book published over thirty years after the original makes it difficult to discern who the author was—Franklin placed his portrait on the frontispiece to muddy the truth of authorship. He also published Plain Truth with the intention to strengthen political support for organizing a militia against the hostile French.
While it was difficult to penalize him for publishing his unofficial Clarissa, or expose his dishonest imprinting in his later life, Franklin risked it all by publishing the most important book in colonial America: The Bible. By royal patent, the Bible could only be printed in England by the King's press. None of Franklin's Bibles have survived, but his inventory logs reveal that he printed the New Testament. Copies of Franklin's Bibles may turn up someday, but they likely won't be easy to find. Franklin, knowing he was breaking the law, probably took great measures to assure that his books would blend in. It's possible that he manufactured his New Testament to look exactly like its legal British counterpart, and imprinted it with the mark of the King's press in London.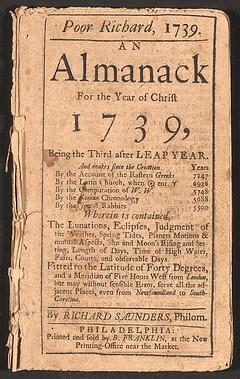 Books were a difficult financial venture. They required intense labor, costly materials, and great risk. Therefore, the bulk of Franklin's career as a publisher was sustained by periodicals. His first successful venture was the Pennsylvania Gazette, in which he became a significant partner in 1729, at the age of twenty-three. It was through this paper that he experimented with writing and penned editorials, often under a pseudonym.
Perhaps Franklin's most famous publication was Poor Richard's Almanack, which sold up to 10,000 copies every year. Poor Richard was most famous, both in its day and now, for its aphorisms. Contrary to some misconceptions, the aphorisms were not written by Franklin himself, nor did he lay claim to them, either. He wrote in his Autobiography: "I am no poet born; and it is a trade I never learnt, nor indeed could learn. . . .Why then should I give my readers bad lines of my own, when good ones of other people's are so plenty?"
The publication, originally printed under the pseudonym Richard Saunders, was created as a kind of service to the common people, who, Franklin testified, read scarcely other books. It not only contained its trademark epigrams—it featured seasonal weather forecasts, puzzles, and household tips. While the pamphlet ran for twenty-five years and gave Franklin significant wealth, it would later be derided by some American authors who were forced to acknowledge the humble beginnings of American literary culture. Herman Melville and Nathaniel Hawthorne parodied the Almanack. Romantic poet James Russell Lowell severely deprecated Franklin's reputation as a man of letters, writing that "he had to move to Philadelphia because great men were so plenty in Boston that he had no chance."
Although he was a prolific publisher, Benjamin Franklin's Autobiography did not come about until after his death, around the year 1818. His Autobiography, compiled by his grandson, was comprised of what Franklin called his "Memoirs," which were written in four periods of his life, through 1771 to his death in 1790. For many years, only the first part of these writings was in print.
An unorthodox man, Franklin's manuscript became his Autobiography in an appropriately convoluted way. Only after his grandson's compilations, and a pair of French translations, did the most complete version of his writings come to fruition in 1868. Franklin's life exhibits the mark of a truly successful literary career: to both publish and be published.