The multifaceted philosopher, mathematician, political activist, and writer Bertrand Russell was born in Trelleck, Wales on May 18, 1872 to Lord and Lady Amberly. He had two older siblings, Frank and Rachel. Although Russell was set up for a perfect childhood, by the age of six he had experienced more death than imaginable. His parents died before he was three years old, and his sister and paternal grandfather soon followed. Russell and his brother, Frank were sent to live with Countess Russell, their paternal grandmother. While Frank was sent to a private school, Russell was homeschooled by private tutors, making his childhood fairly lonely and isolated. His seclusion was not all for naught, as he discovered a passion for math during this time, loving it for its certainty. During this time he was also introduced to Percy Bysshe Shelley and Euclid, which changed his way of thinking forever.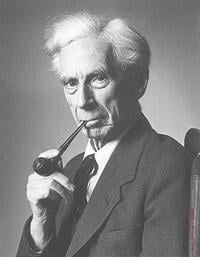 Russell entered Trinity College at the University of Cambridge in 1890 to study mathematics. Here, he would be introduced to people who would have a profound influence on his career and writings. He became acquainted with instructors Robert Rumsey Webb and Alfred North Whitehead—both mathematicians—and G.E. Moore, a fellow student and future renowned Realist Philosopher. The two students were invited to join the Cambridge Apostles, an intellectual secret society comprised of students from Trinity, St. John's, and King's Colleges, among a few other illustrious constituent colleges.
In 1896, Russell's first political work was published German Social Democracy is a series of six lectures given at the London School of Economics and Political Science, in the Spring of that year. The work highlights specific moments in time that he believes brought Germany to the state it was in at the time of publication.
The following year, Russell's first philosophical book—originally based on his thesis— An Essay on the Foundations of Geometry was published. Russell's book provides a deeper look into his first ideas on critical analysis and introduces his philosophical ideals. He continued to delve into math and in 1903, published The Principles of Mathematics, in which he famously states that logic and math are one and the same, in addition to giving a brief outline of math and physical science. Russell continued publishing as well as lecturing at the University of Cambridge, where he would meet his future successor and then-student, Ludwig Wittgenstein.
With the outbreak of the First World War, Russell became active in anti-war activities. He was incarcerated for six months for unlawful disobedience towards constitutional acts placed during the war. The arrest was grounds of dismissal, and he was asked to leave Trinity College. In 1920, Russell travelled to Russia on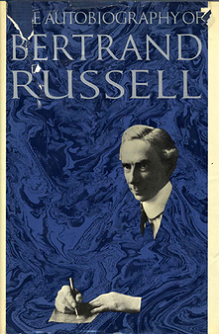 behalf of Britain to observe the effects of the Russian Revolution on its citizens. He published an account of his experiences later that year in The Practice and Theory of Bolshevism. Russell wrote a few post-war political books, showing his transfer from liberalism to socialism due to the war and his personal experiences.
Before World War II, Russell spent time lecturing in the United States. In 1944, Trinity College welcomed him back to the faculty. The following year, Russell published A History of Western Philosophy, which would be a very successful best-seller, and would help support him the rest of his life. Russell would finally receive recognition for his works. In 1949, he was awarded the Order of Merit, for his exceptional work in arts and science. The following year, he was presented with the Nobel Prize in Literature for his "humanitarian ideas" and "freedom of thought."
Russell continued to engage in politics, speaking out against war and nuclear weapons, in addition to speaking with many wartime leaders, promoting peace. His three volume autobiography was published in 1967, 1968, and 1969, respectively. Russell spent the remaining months of his life appealing to the United Nations to investigate war crimes committed during the Vietnam War and wrote a statement chastising Israel for their recent behavior in the Middle East. He passed away of influenza on February 2, 1970, leaving the world with an insurmountable contribution to philosophy, literature, and humanities.