There are so many incredible works of literature from Haiti that we're going to have some difficulty selecting just a handful of our favorites for you here. But, that being said, we'll give it a try. Many American readers know Haiti through a lens of Western bias: from news reports of violence or of the devastation wrought by the earthquake in 2010. Or, going back almost one hundred years prior, through the neocolonial perspective produced by the U.S. invasion and occupation of the country in 1915. Can we help to change your mind? In addition to reminding you here of Haiti's successful revolution against colonial, slave-owning forces in 1803, we have some works of fiction to introduce you to a number of twentieth-century writers from the country.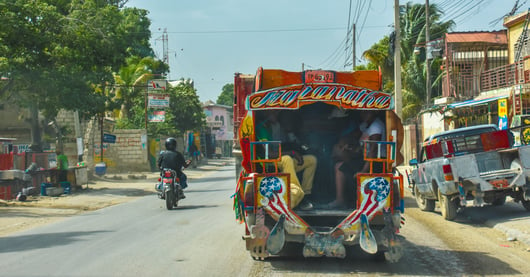 Jacques Stephen Alexis, General Sun, My Brother (1955)
Jacques Stephen Alexis's novel General Sun, My Brother (1955) was originally published more than half a century ago in Paris, but it has only become available to English-speaking readers in its entirety relatively recently. Portions were published in the journal Callaloo in the early 1990s, and then by the University of Virginia Press's CARAF Books series, or Caribbean and African Literature Translated from French.
Alexis came from a long line of revolutionary leaders, and his fiction is written in that spirit. This novel in particular deals with socioeconomic inequality and political violence. We are always intrigued by works of fiction that contain maps, and this is one of those texts. The novel begins with a large-scale map of "The Island of Hispaniola," followed by a hand-drawn rendering of Port-au-Prince. Want to know more? We recommend buying a copy. In case you needed another push, remember how we mentioned that Alexis is the descendant of revolutionary leaders? More specifically, he was related to Jean-Jacques Dessalines, one of the founding fathers of Haiti who played a major role in the Haitian Revolution under Toussaint L'Overture.
René Philoctète, Massacre River (1989)
Known primarily as a Haitian poet, René Philoctète's novel Massacre River (1989) is a poetic exploration of the Parsley Massacre, the massacre of Haitians in 1937 along the border of Haiti and the Dominican Republic at the hand of the Dominican dictator, Rafael Trujillo. Here's how the novel begins:
"Since five o'clock in the morning, a bird—to be honest, no one knows what it is—has been wheeling in the sky over Elías Piña, a small Dominican town near the Haitian border . . . . Suddenly, the bird hangs motionless, wings spread. Its shadow carves a cross that cuts Elías Piña into quarters. No sound leaves its throat. Not one twitter or chirp. The bird is mute. Dogs, cats, oxen, goats, donkeys, horses bite, claw, graze, browse its shadow set in the crystal of a Caribbean noon."
He is among a group of writers who developed Haitian Spiralist literature, a literary movement tied to the Duvalier period that Nick Nesbitt describes as "perhaps the richest and most vivid development of the Caribbean surrealist aesthetic to date." Other notable writers of Spiralism include Frankétienne and Jean-Claude Fignolé.
Edwidge Danticat, Krik? Krak! (1995)
Are you already familiar with the works of Edwidge Danticat? We love all of her novels and essays, but we're particularly smitten with her collection of short stories, Krik? Krak! (1995). The title of the collection gets its name from a Haitian storytelling practice: the teller of the story starts by saying, "Krik?" and the listeners respond with, "Krak!" Danticat was born in Haiti in 1969 and lived there until 1981, when she moved to New York.
While Danticat's fiction addresses the Parsley Massacre at length in her novel The Farming of Bones (1998), the first short story in Krik? Krak! also contends with this moment of racist violence. Set between Port-au-Prince and the Massacre River near Dajabón on the Dominican side of the border between the two countries, the narrator recalls her mother's experience of the massacre:
"Then the story came back to me as my mother had often told it. On that day so long ago, in the year nineteen hundred and thirty-seven, in the Massacre River, my mother did fly. Weighted down by my body inside hers, she leaped from the Dominican soil into the water, and out again on the Haitian side of the river. She glowed red when she came out, blood clinging to her skin, which at that moment looked at through it were in flames."
Èvelyne Trouillot, The Infamous Rosalie (2003)
Trouillot's novel, The Infamous Rosalie (2003), is another book translated into English and published through CARAF Books at the University of Virginia Press. The novel follows Lisette, who experiences transgenerational trauma through the stories she hears from her grandmother and godmother about their forced voyage across the Atlantic on the slave ship Rosalie. The novel takes place in 1750, when Haiti was known as Saint-Domingue.
The author was born in Port-au-Prince, where she currently lives and works as a French Professor at the State University. She is a poet, playwright, and novelist, working in both Creole and French.
We've only given you a small selection of some of the best books from Haiti. We hope it's a good place to start and that you'll continue to discover more literature from the Caribbean.