The Indian subcontinent is extremely large, including the nations of India, Pakistan, and Bangladesh. Yet those nations have not always been separate. To be sure, the subcontinent was divided during the India-Pakistan Partition of 1947, and years later in 1971, Bangladesh (which was, at the time, East Pakistan), gained its independence. Given the complicated modern political history, it's especially difficult to select only a handful of texts to represent the best books on India. As such, we're beginning with an early twentieth-century work and then jumping immediately to the period following Bangladeshi independence, and we're also offering the following books with the caveat that we haven't even really scratched the surface of the literary offerings of the large Indian subcontinent.
Rabindranath Tagore, Gitanjali (1910)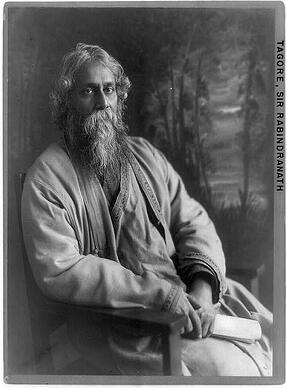 The first book we've selected for you is one of Rabindranath Tagore's works of poetry. Although he published around 50 books of poetry in his lifetime, Gitanjali [Song Offerings] (1910), is among his best-known works. Tagore was a Bengali writer and scholar who was born in Calcutta (in the state of Bengal) in 1861. During his life, he created poetic works that drew from both Indian and Western literary and philosophical traditions, reflected in the language of his poems—he began writing in Bengali but later wrote in English. Although he was friends with Gandhi and generally supported the Indian nationalist movement, he remained largely removed from politics. Tagore won the Nobel Prize in Literature in 1913 "because of his profoundly sensitive, fresh and beautiful verse, by which, with consummate skill, he . . . made his poetic thought, expressed in his own English words, a part of the literature of the West," according to the Nobel committee.
Salman Rushdie, Midnight's Children (1981)
It's difficult to imagine great works of Indian literature without thinking of Salman Rushdie. While Rushdie has written more than fifteen books, we think Midnight's Children (1981) best captures the novelist's style, as well as an important political moment in Indian history. The novel begins at the strike of midnight at the moment of Indian independence from Britain, which is also the moment of Partition that so sharply divided the subcontinent. The novel is known for its inflection with magical realism, and it won the Booker Prize the year of its publication.
Rohinton Mistry, A Fine Balance (1995)
Similar to Midnight's Children, Rohinton Mistry's novel A Fine Balance (1995) also captures a significant period of India's political history: "the Emergency," which was a nearly two-year period from 1975 to 1977 in which then-Prime Minister Indira Gandhi declared a state of emergency in the country. During this period, many opposing Gandhi were imprisoned, mass censorship occurred, and political violence was rampant. The novel begins in 1975 and reflects the social and political changes that occurred in the country since its time of independence. The novel was shortlisted for the Booker Prize in 1996.
Arundhati Roy, The God of Small Things (1997)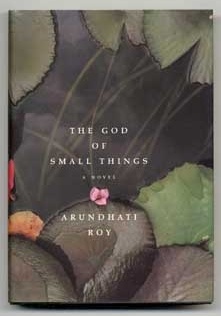 Many novels from India have won the Booker Prize (or have been longlisted or shortlisted), and this is another of those books. Arundhati Roy's The God of Small Things explores the consequences of religious, cultural, and legal practices in India through fraternal twin characters. The novel largely takes place in Ayemenem, which is now an area of Kerala. The New York Review of Books described the novel as being "about love and cruelty, time integration."
V.S. Naipaul, An Area of Darkness (1964)
Finally, we'll leave you with a work of nonfiction by one of the most notable twentieth-century writers of Indian descent. V.S. Naipaul is a Trinidadian writer whose grandparents traveled from India in the late nineteenth century to the Caribbean as indentured servants. Naipaul was later educated in Britain, and is most notable for his postcolonial fiction including the novel A House for Mr Biswas (1961). Naipaul won the Nobel Prize in Literature in 2001. While we highly recommend his fiction, we'd like to point you toward an interesting work of his nonfiction: An Area of Darkness (1964). It has become a classic work of travel writing, and Vintage Books describes it as "the most elegant and passionate book ever written about the subcontinent." In it, Naipaul travels all across India, from Bombay to the Himalayas, from Kashmir to Madras. If you're thinking about visiting India from the comfort of your home, this just may be the book for you.
If you're planning a trip to India in the near future or are simply looking to expand the geographic scope of your personal library, you can't go wrong with any of the titles we've mentioned here. Yet as we mentioned above, we've only scratched the surface of the best books on India. There are many, many more works out there for you to discover.