Randolph Caldecott, the namesake of the Caldecott Medal, started his career as a banker. Yet he was always sketching the buildings and landscapes that surrounded him. In 1861, Caldecott had his first drawing published in the Illustrated London News. After more of his work appeared in both local and London publications, Caldecott finally took the plunge and moved to London to make a life for himself as an artist.
Often called the "father of children's picture books," Caldecott also drew pieces to illustrate the news and often submitted humorous drawings. He was published in Punch, Harper's Monthly, and New York Daily Graphic. Caldecott set himself apart from contemporaries like Walter Crane and Kate Greenaway with his bold use of colors and textures. His works are remarkable for the way he fuses art and language.
Caldecott's first published sketch, above, ran in the Illustrated London News in 1861. It documented a disastrous fire at Queens Railway Hotel and appeared alongside Caldecott's first-hand account of the blaze. Caldecott would continue to submit such items over the next several years, before leaving his job as a banker to illustrate full time.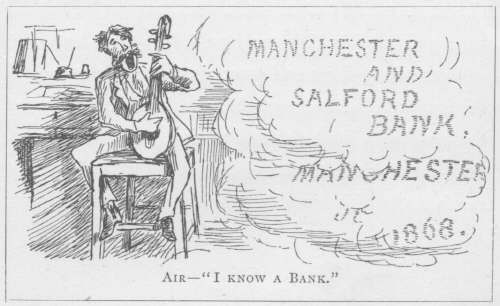 After six years at the Whitchurch & Ellesmere Bank, Caldecott moved to the Manchester & Salford Bank. He sketched this advertisement for the bank in 1868.
Caldcott lived in Manchester for six years, during which time he attended the Manchester School of Art. It was also during this period when he began to enjoy success as a professional illustrator. The above image is one of many pen and ink sketches he made while living in Manchester.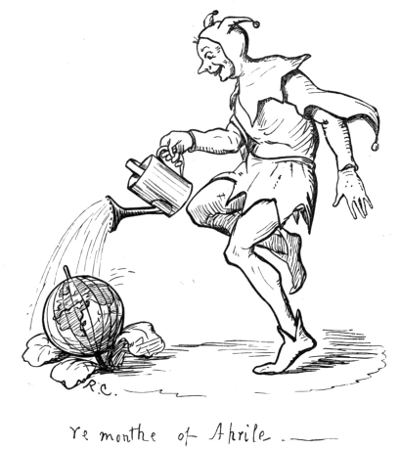 In 1871, Caldecott submitted several sketches and a letter of introduction from George du Maurier to London Society editor Henry Blackburn. "Ye monthe of Aprile" was one of the first Blackburn published in the periodical. The two would become great friends, even traveling together to the mountains of Germany.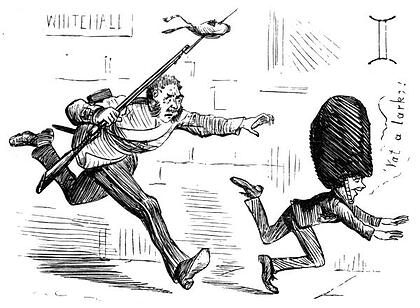 Caldecott used the same approach for Punch, sending in several illustrations for consideration. The above was the first to appear in the periodical, on June 22, 1872.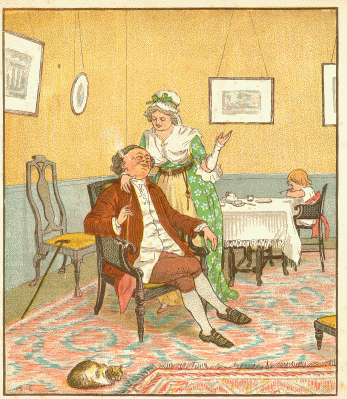 William Cowper's The Diverting History of John Gilpin had been wildly popular when Cowper first published it in 1782. Caldecott republished it in 1878. If you look carefully at the frontispiece, you'll find that Caldecott drew his own self-portrait into the picture--in the shape of the cat!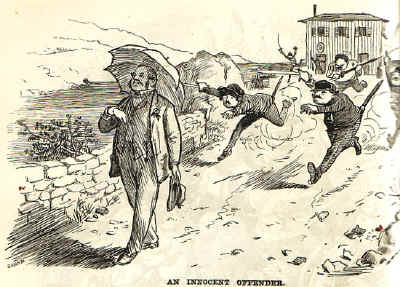 "An Innocent Offender" appeared in Punch's Almanack for 1880. Perhaps Caldecott's first social commentary, it pairs with a dialogue about carrying plants into Italy: "What is all this about? Why, it is against the Law to carry Plants of any kind, alive or dead, into Italy, and the Officials at the Italian Dogana (Custom-House) near Mentone have just been told that an English Gentleman, with a Rose in his Button-hole, has strolled by, towards Ventimiglia. So they are after the unsuspecting Criminal!"
"A Lovers' Quarrel" was published as a series of four color plates in the 'Summer 1884' edition of The Graphic. The strip soon became famous. Because these strips were printed in such high numbers, Caldecott had to submit them to the engravers more than six months in advance.
In 1885, Caldecott illustrated the nonsense poem "The Great Panjamdrum Himself" by Samuel Foote (1720-1777). The poem includes many non sequitors, and university students used to memorize and recite it for entertainment.