In the world of rare books, we talk frequently about firsts. Indeed, the novice collector very quickly learns the terms "first edition" and "first printing." These descriptors often significantly increase the value of a book. But another important, and quite interesting, concept of firsts is that of authors' first works.Often exceedingly rare, an author's first work may cost much more than the later works that actually catapulted the author to greatness.
Scarcity from the Start
Publishing a book is a risk, especially if the author is relatively unknown. Thus, publishers generally print authors' first books in very small numbers. For example, there were only 500 copies of William Faulkner's first work,
The Marble Faun
in the first run.
Ernest Hemingway's
first work, "Three Stories and Ten Poems" wasn't even a book! It was a pamphlet, and 300 copies were made.
John Steinbeck's publishers were more optimistic about Steinbeck's first novel,
Cup of Gold
; they issued 1,500 copies. But the books didn't sell—the remainders sat in storage until
Steinbeck
earned more attention for subsequent works like
Grapes of Wrath
and
Of Mice and Men
. The remainders were bought up by Steinbeck's new publishers, who then issued a new edition of
Cup of Gold.
Thus, first editions of this first work are exceptionally rare.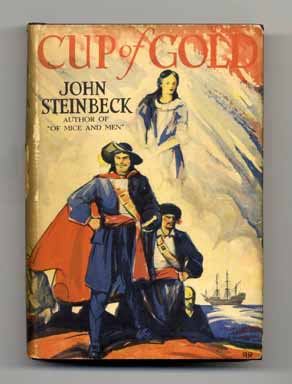 The rarity of Steinbeck's first novel has increased the value of second editions.


Lower "Survival" Rate
Also contributing to the scarcity of authors' first works is that fewer of these books survive in collectible condition. Usually publishers use cheaper materials for first books because they may not sell. Thus these first books may not stand up to the ravages of time as well as their sturdier counterparts. Those that do survive are often in worse condition than collectors might prefer—it's unlikely to find these books in unread condition, for instance.
Meanwhile, libraries often have standing orders for new books. Therefore the majority of an author's first work may end up there—where they get stamped, marked, wrapped in plastic, and generally made more impervious to the damage caused by general circulation. Such books aren't seen as fit for collections. Furthermore, if the author then goes on to build an outstanding reputation, these books may pass into special collections where they're unavailable to private collectors anyway. Sometimes fewer than half the existing copies of an author's first work are even available for collection.
Collecting Tips
Authors' first works often command much higher prices because of scarcity. Some rare book collectors have found that their favorite author's first work actually costs more than the rest of the author's works, combined! The sticker shock can be quite overwhelming. However, first works by legendary authors are also much more likely to hold their value over time, making them a sound collection choice. Also, completing your collection with an exceedingly scarce volume can increase the price of your entire collection; this is one case where the whole can be greater than the sum of its parts.
So why not "hedge your bets" and buy authors' first works, in case they become valuable later? It's incredibly difficult to predict which authors will become popular. Instead, your best bet is to collect
rare books
that you love. That way, you'll cherish your collection regardless of its financial worth to other people.