It's Christmas Eve! As adults, sometimes we can lose sight of the joy, wonder, and magic of this season. But one book that has always encapsulated those emotions is The Night Before Christmas. This childhood classic has enraptured generations, so much so that some rare book collectors even focus all their efforts on this single title.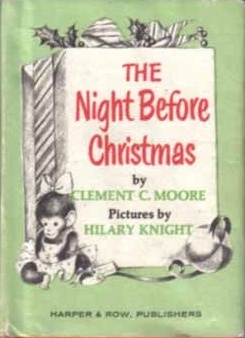 But as with any good story, there are multiple layers to this tale: the poem that shaped our Christmas traditions was at the center of an authorial controversy, is highly collectible, and has also found its way into numerous other facets of pop culture.
Changing Our Christmas Traditions
The story goes that Clement Clarke Moore composed The Night before Christmas while taking a sleigh ride on a winter day. He supposedly drew inspiration from a Dutch handyman for his "Saint Nicholas" character. Moore also borrowed elements from his friend and fellow author Washington Irving, with one small change: his Santa Claus arrived on Christmas Eve, rather than Christmas Day. Why this shift? Though Christmas was quickly becoming the most popular genteel holiday of the season, a small but significant portion of Protestants descried Christmas as a holiday of "Catholic ignorance and deception." Thus Moore sidestepped this religious dispute by avoiding Christmas Day itself. His work also shifted the holiday's focus, making it a day centered more around children than religious meaning.
Moore's fellow New Yorkers immediately embraced his poem and its concept of Christmas. The poem was so influential that it forever changed our image of Santa Claus, not only in English-speaking countries but around the world. The poem also introduced the concept of Santa's arrival via a sleigh and reindeer, along the the tradition of bringing toys to children. Even the names of Santa's reindeer come from Moore's poem, though they have been bowdlerized over time.
An Anonymous Masterpiece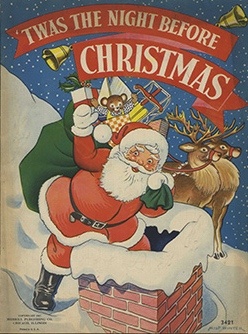 Sometimes also called 'Twas the Night before Christmas, the poem was originally entitled A Visit from Saint Nicholas. It first appeared in the Troy, New York Sentinel on December 23, 1823. Clement Clarke Moore is generally accepted as the poem's author, and a friend of his brought the poem to the paper for publication. It reappeared many more times, still with no named author. Moore, who was a scholar and professor, didn't want a children's poem associated with him. Yet eventually he relented at the insistence of his children; the work finally bore Moore's name in 1837, and A Visit from Saint Nicholas is included in a 1844 anthology of Moore's work.
Many say that Henry Livingston, Jr. is the famous poem's author, rather than Moore. Livingston was a poet, and his children claimed to recall his reading A Visit from Saint Nicholas some 15 years before its publication, in 1808.
Although the family could not produce an original manuscript, the rumor still persists that Livingston was the author. Indeed, even noted scholar Don Foster argues that Livingston authored the poem. He notes that Livingston's style and tone more closely match that of the poem than do Moore's. Foster also points to Livingston's Dutch roots. There are references to the Dutch tradition of Sinteklaes in A Visit from Saint Nicholas, and the original names for the reindeer Dunder and Blixem (now Donder and Blitzen) are also Dutch.
Livingston's children and grandchildren didn't claim that he'd authored the poem until around 1870, and their claim is based on shared memories that they discussed via letter. One theory is that a Christmas morning visitor to the Livingston home took a copy of the poem and immediately went to work for Moore's family as a governess. But in 1808, Moore was a bachelor with no need for a governess.
Livingston's family may be mistaking A Visit from Saint Nicholas for a different—but similar—Christmas poem that he did indeed write. Historical references in the story indicate that it couldn't have been written before 1822. Seth Kaller, another scholar who once owned one of the original A Visit from Saint Nicholas manuscripts, argues that evidence certainly points to Moore as the author. First, the Reverend David Butler initially showed the poem to the Sentinel editor, and he was a relative of Moore. Moore's friend Charles Fenno Hoffman also credited Moore as the poem's author on December 25, 1837. Perhaps the best evidence for Moore's authorship is that Livingston himself never claimed to have written A Visit from Saint Nicholas. He frequently submitted his works for publication and moreover had no real reason to hide having penned the poem.
Fertile Ground for Collectors
Four handwritten copies of A Visit from Saint Nicholas exist. Three are in museums, while the fourth was sold at auction in December 2006 for $280,000. Though these originals aren't available to collectors, there have been numerous publications of the poem in periodicals and countless editions of the book. The variety of editions over time yields plenty of interesting pieces for collectors who love Christmas books. A few particularly desirable editions include the Robert Sabuda limited-edition pop-up book and editions illustrated by Tasha Tudor.
Nancy H. Marshall's descriptive bibliography is an invaluable tool for collectors of The Night before Christmas. It includes all editions from 1823 to 2000. She's a collector of The Night before Christmas herself. She began collecting copies as gifts for her children's Christmas stockings, and amassed a truly impressive collection before bestowing the collection to the College of William and Mary.
Whether you're interested in collecting copies of The Night Before Christmas or in reading the poem, today is a fine occasion to do so! Merry Christmas Eve!