This article from the Wall Street Journal on book collecting is excellent. It details some ideas for getting additional benefits from your collection beyond just a possible financial return. Below are some points to help you answer questions such as 'should I invest in rare books?' and 'what's the best way to do so?' We hope you find these insights helpful.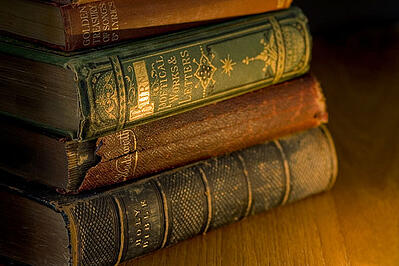 Collect What You Love
Focusing your collection on an author, topic, or title you love will give your library an intrinsic value for you--and ensure that you stay interested in collecting over time. The most wonderful thing about collecting rare books is that you can, in fact, enjoy them as tangible, useful objects; your personal library can become the centerpiece of your home, while reading the books (yes, you can read them!) can deliver countless hours of entertainment and learning.
Remember the Whole vs the Parts
One other benefit of collecting what you love is that it will give your collection a focus, which can add value. Building an extensive and thorough collection of rare books can pay off; this is one situation where the whole may be greater than the sum of its parts. This is especially true if you build your rare book collection around a very specific niche.

Build Relationships with Experts
As a beginner, you'll be asking plenty of questions--or at least you should be! The best rare book dealers will be more than happy to provide thorough answers and other guidance. Your dealer may be able to direct you to resources like relevant bibliographies or even other rare booksellers. This step is also important because you'll want to be confident about your purchases, and buying from someone you know and trust is an excellent first step. Look for dealers who are members of their professional societies, such as the Antiquarian Booksellers Association of America (ABAA) and the International League of Antiquarian Booksellers (ILAB) or the Independent Online Bookseller Association (IOBA) come to mind. There are also reputable bookclubs or associations of bibliophiles in which you can learn and share learnings with fellow book collectors.


Consider the Beauty of the Book
Books are not only valuable for their content; they are also often objects of art. The dust jacket (sometimes called a dust wrapper) may feature compelling or iconic artwork. Rare books are also often made beautifully, with luxurious materials: supple morocco leather, intricate embossing, rich paper. And fine press books are created as art pieces. Enhance your collection by purchasing the finest editions possible.


Be Patient
Building a rare book collection doesn't happen overnight. Do plenty of research before each purchase, and avoid making decisions on the spot until you've learned more about rare books. Prices on two books that are apparently the same may vary widely; usually that's due to nuances in the book's condition, but keep in mind that pricing may vary widely on items in the same condition. Meanwhile, rare books are a long-term, non-liquid investment. While their value often appreciates, it can take time to find the right buyer when you're ready to sell all or part of your collection.

When in doubt, go back to the beginning. Collect what you love. If you love it and never part from your collection, you also do not ever have to worry about the value of your books.