Today is the centennial birthday of Doris Lessing, novelist, poet, playwright, and Nobel laureate. Born in Kermanshah, Iran to British parents, Lessing's life story is an incredible one. In honor of the 100th year since her birth, here's more about one of the foremost authors of the twentieth century.
Lessing's parents met at the Royal Free Hospital, where her father, Alfred Tayler, was a patient and her mother, Emily, was a nurse. The couple moved to Kermanshah, Persia (now Iran) so that Alfred could take a position with the Imperial Bank of Persia. It was here that Lessing was born in 1919.
Six years later, the family relocated to Southern Rhodesia (now Zimbabwe). Their plan was to grow maize. Emily hoped to lead an Edwardian lifestyle, but that wasn't feasible; the farm was far from profitable. Meanwhile, Lessing left school at the age of 14. A year later she took a job as a nursemaid and left home. It was her employer who provided Lessing with the books that would be the cornerstone of her incredible informal education. Around this time, Lessing also began writing.
Lessing moved to Salisbury to work as a telephone operator in 1937. She met her first husband, Frank Wisdom, soon after. The two had two children before divorcing in 1943. Lessing began attending the communist Left Book Club, where she met her future second husband, Gottfried Lessing. The couple had one son together, but they divorced in 1949. Lessing moved to London with her youngest child that same year. Her two older children stayed behind with their father. Thanks to her campaigns against apartheid in South Africa and against nuclear arms, Lessing was banned from Rhodesia for decades.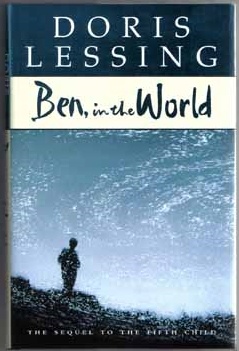 The following year Lessing published her first novel, The Grass Is Singing. This was considered the first work in her Communist phase (1944-1956). It was not until 1962 that her breakthrough work, The Golden Notebook was published. Critics consider this work part of her psychologic phase (1956-1969) and a feminist classic. But Lessing preferred not to characterize herself as a feminist author. She noted that feminists "want people to make oversimplified statements about men and women."
Over twenty years later, she tried to publish two novels under the pseudonym Jane Somers. She was eventually successful; The Diary of a Good Neighbor was released in both England and the U.S. in 1983, and If the Old Could was released the following year. Both novels have since been republished under Lessing's name. The last phase of Lessing's career is usually called the Sufi. The novels of this last phase, which Lessing calls "space fiction," were less popular among literary critics. Yet Lessing also attended the 1987 World Science Fiction Convention as the Writer Guest of Honor. She also named the Canopus in Argos novels as her most important works.

Though Lessing declined damehood, she did accept an appointment as a Companion of Honour (1999) for "conspicuous national service." The Royal Society of Literature also named her a Companion of Literature. But by far Lessing's greatest honor came in 2007, when she was awarded the Nobel Prize in Literature. Only the eleventh woman to win that prize, Lessing was also the oldest winner of the prize at that time and the third oldest Nobel laureate in any category. Lessing used her acceptance speech (which she titled On Not Winning the Nobel Prize) to explore the evolution of storytelling and literature and to draw attention to global inequalities. She published the lecture as a limited edition to raise money for children affected by HIV/AIDS.

An incredibly prolific author, Lessing published in an exceptionally wide range of genres: novels, short stories, memoirs...even opera libretti and comics. The largest collection of her works is at the Harry Ransom Humanities Research Center (University of Texas at Austin). Other smaller collections are located at the McFarlin Library (University of Tulsa) and a few other institutions.