It's James Bond Day, marking 50 years of Bond movies in the cinema. Since the debut of Dr. No on this day in 1962, Special Agent 007 has become an icon of popular culture. The latest James Bond movie, Skyfall, premiers on October 26 in the UK and on November 9 in the United States. Though the movies originally stuck close to Ian Fleming's novels and short stories, later films feature original story lines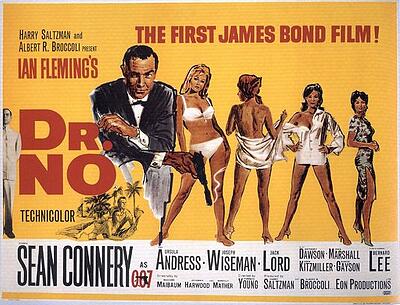 A look at some James Bond movie trivia:
The James Bond series has grossed just over US $5 billion to date, making it the second most profitable film series of all time (behind Harry Potter). Adjusted for inflation, the Bond series is the most profitable film franchise of all time.
The first attempt at adapting a Bond story for the screen resulted not in a movie, but in a 1954 episode of the television show "Climax!" Based on

Casino Royale

, the episode starred Barry Nelson as "Jimmy Bond."
Fleming was incredibly interested in adapting his stories for the big screen. He approached director Sir Alexander Korda about

Live and Let Die

and

Moonraker.

Though originally interested, Korda later walked away from the project.
In 1959,

Fleming

started work on an original screenplay that would become

James Bond, Secret Agent.

Alfred Hitchcock was invited to direct the film and declined. Similarly, Richard Burton turned down the invitation to star in the film. The project fell through, and Fleming turned the screenplay into his novel

Thunderball

(1961).
Multiple Hollywood studios refused to produce the James Bond movies because they were "too British" or "too blatantly sexual."
When United Artists finally agreed to produce

Dr. No

, a contest was launched to find someone to play James Bond. The original winner, 28-year-old model Peter Anthony, proved unable to cope with the part. Sean Connery was eventually selected as his replacement.
Sean Connery was not even the studio's next pick to play Bond. Directors first wanted Cary Grant, and their second choice was Jason Mason. Neither actor was agree to the required number of films.
Fleming found Connery's performance "dreadful. Simply dreadful." And he wasn't alone: the film was panned by the critics and even received a rebuke from the Vatican. Fleming--and moviegoers--warmed up to Connery after

From Russia, with Love.
The violence considerably increased from

Dr. No

to

From Russia, with Love

; the latter contains more than double the homicides.
Desmond Llewelyn, who plays Major Boothroyd (later known as "Q") has appeared in 17 different Bond films, making him the most frequently recurring character in the history of Bond films.
Thunderball

has been the most successful Bond movie to date. It not only grossed $141.2 million that year, but it also inspired numerous other spy movies and series throughout the 1960's. The most notable: "Get Smart" and the "Harry Palmer" trilogy.
Goldfinger

proved much more successful than its predecessors, nearly causing a riot at its UK premiere. The movie went on to earn an Oscar. Unfortunately Fleming passed away before seeing the film.
The Bond movies were incredibly popular in Japan, and film crews for

You Only Live Twice

were greeted warmly there. This film was the first to depart entirely from Fleming's plot line.
Connery also said that he was finished playing Bond after You Only Live Twice. Connery did take a break from the films but returned in 1971 with

Never Say Never Again.
George Lucas has stated that his Indiana Jones character is inspired by Connery's portrayal of James Bond. Hence he asked Connery to play Indiana's father in

Indiana Jones and the Last Crusade.