Sunday marks the birthday of Truman Capote, the legendary American author who penned such classics as In Cold Blood and Other Voices, Other Rooms. But Breakfast at Tiffany's is undoubtedly Capote's most beloved work; adapted into both a movie and a musical, the story has enraptured generation after generation. The novella remains a favorite among rare book collectors. A few tidbits you probably didn't know about this iconic story: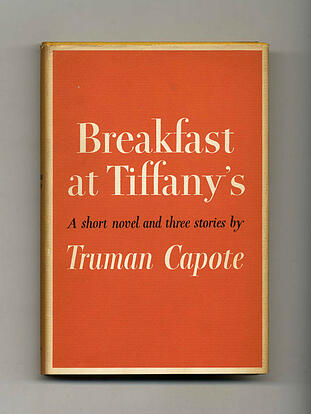 Holly Golightly wasn't the first name that Capote chose for his protagonist. The original name was Connie Gustafson.

Multiple women Capote knew claimed they were the inspiration for Holly: Gloria Vanderbilt, Oona Chaplin, Carol Grace, Maeve Brennan, Doris Lilly, Dorian Leigh, and Suzy Parker.

Contemporary author Norman Mailer was so impressed with Breakfast at Tiffany's that he called Capote "the most perfect writer of my generation."

Capote considered Breakfast at Tiffany's to be a turning point in his career. He noted that his prose changed and said that "I'm nowhere near reaching what I want to do, where I want to go. Presumably this new book is as close as I'm going to get, at least strategically."

A woman named Bonnie Golightly actually sued Capote for invasion of privacy and libel, claiming that Holly Golightly was based on her. She lost her case.

Breakfast at Tiffany's first appeared not in book form, but rather in the November 1958 issue of Esquire.

Capote had envisioned Marilyn Monroe in the role of Holly Golightly. She was originally cast for the part, but Monroe's agent advised that playing a call girl would not be good for Monroe's image.

Audrey Hepburn was recast in the role, even though she thought it was a miscasting. She was paid $750,000 for the movie, making her the second highest paid actress of the time, behind Elizabeth Taylor.

The musical version of Breakfast at Tiffany's was a disaster and closed after only four performances.

In 1969, Stephanie Powers and Jack Kruschen starred in an ABC sitcom called Holly Golightly. The pilot unfortunately remained unsold.
The first edition of Breakfast at Tiffany's is a perennial favorite among rare book collectors. In addition to the books Capote himself wrote, memoirs and biographies detailing his life are also popular. Which of Capote's works is your favorite?