The character of James Bond has fascinated and entertained generations, and many of our favorite 007 tales come not from Ian Fleming, but from his successor. John Gardner was both ambitious and talented enough to take up Fleming's mantle. Over the course of his authorial career, Gardner would write 14 original James Bond novels and compose the novel versions of two James Bond movies.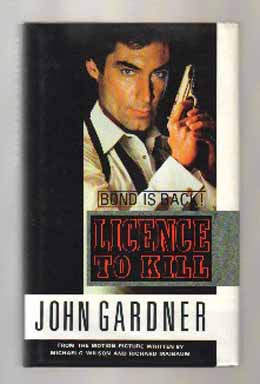 An Unlikely Author
Born in Northumberland on November 20, 1926, Gardner was the son of an Anglican priest. His family moved to Wantage when he was young, and he grew up going to the local public school. During World War II, Gardner joined the Home Guard—he was only 13 years old. Eventually Gardner served in the Royal Navy and rose to the position of commando. He said he was "the worst commando in the world."
After leaving the service, Gardner attended St. John's College. A student of theology, Gardner was ordained into the Anglican priesthood in 1953. Soon after, he realized that he'd made a mistake. Gardner had lost his faith. He left the church in 1958 and took a position as critic at the Stratford-upon-Avon Herald. By the time he was 33, Gardner was drinking two bottles of gin each day. That year, he confronted his alcoholism, and he penned his first book, the autobiographical Spin the Bottle (1964) as part of his therapy.
Inspired by Intrigue
Gardner launched his career as a novelist in 1964 with The Liquidator. The novel's protagonist, Boysie Oakes, is recruited into a British spy agency despite being utterly unsuitable for the task. Oakes hates violence, suffers from air sickness, and fears heights. The Liquidator was published at the height of interest in spy novels, and it was an instant success as a parody of the genre. Gardner would go on to write several more books featuring Oakes the unlikely hero.
Gardner admits that his first novel borrowed liberally from the James Bond stories of Ian Fleming. Gardner's next novels included new protagonists: Derek Torry and Herbie Kroger. The latter character appeared in novels published concurrently with Gardner's James Bond books. Gardner also found inspiration in Professor Moriarty, the infamous villain who almost undid Sherlock Holmes. He wrote three continuation novels about Moriarty, the last of which was published posthumously thanks to a dispute with the publisher.
Continuing a Legacy
Gardner undertook the challenge of continuing the James Bond series in 1979, at the invitation of Glidrose Publications (now renamed Ian Fleming Publications). His achievements in the genre made him the ideal candidate. By 1986, Gardner had written fourteen Bond novels. He also novelized two Bond movies. Though Gardner was a talented author in his own right, several critics noted that he seemed more comfortable adopting the persona of other writers; he also worked successfully on these kinds of projects "as" both John le Carré, and Graham Greene.
Gardner's James Bond novels earned mixed reviews from critics, but they were extremely popular among readers. Many of them made it to The New York Times Bestseller List. Thanks to James Bond's place as an icon of popular culture, 007 novels by both Fleming and Gardner make an exceptionally worthy focus for a rare book collection.