Many collectors build their libraries around a specific genre, author, or even titles. But in the world of rare books, books are often collectible for more than merely their content; they are beautiful objects of art in their own right. From decorative bindings and illuminated manuscripts, to intricate etchings and hand painted illustrations, the art and craft of books can be truly breathtaking. One method of focusing your collection of books as objects is to focus on specific binding or art techniques.
Decorative Book Bindings
Both modern and antiquarian books may feature decorative bindings. You may choose to focus on covers that showcase a particular technique, such as embossing, or collect books by specific binders. Joseph Zaehnsdorf and Bayntun Riviere are two nineteenth-century binders whose works are highly coveted among collectors of fine books. Claudia Cohen's intricate binding for the deluxe edition of Occupied by Colour (Heavenly Monkey, 2012) uses both leather and paste paper.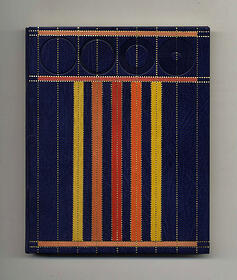 Fore-Edge Painting
Italian artiste Cesare Vecellio was the first to adorn the edges of a book block. He painted exquisite scenes on the edges of the book's pages, for artwork that was visible only when the book was closed. Other artists subsequently built on the technique, painting the fore-edges in ways that the artwork was visible only when the pages were fanned slightly.
Illumination
The first evidence of illumination showed up over 2,000 years ago, on Egyptian papyrus scrolls. Manuscripts were originally described as illuminated if they were decorated with silver or gilding, but the term was eventually broadened to include books that contained ornate borders, scenes, or lettering. Modern printing methods have made illuminated books exceptionally rare, though some fine presses still use the technique. Often individual pages from illuminated manuscripts are sold as stand-alone items. Kurt Weitzman's The Joshua Roll includes numerous illuminated illustrations.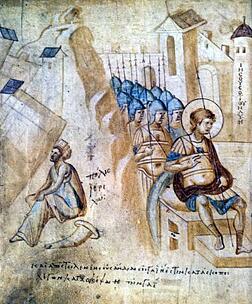 Pochoir
Pochoir refers to a stenciling technique popularized in France throughout the 1920's and 1930's. Most pochoir prints require the application of multiple layers, each with a different pigment. The result is often a visually stunning image with unique depth. Because pochoir is quite labor intensive, it's generally used only in fine press books produced in very limited numbers. Circus: The Artist as Saltimbaque (Shanty Bay Press, 2011) includes several excellent examples of pochoir.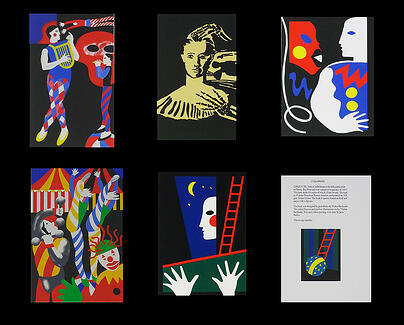 Intaglio printmaking
Aquatint, drypoint, engraving, etching, and mezzotint are all types of intaglio. All of these are ways to incise an image into a metal surface (usually zinc or copper). These incisions then hold the ink, and the metal is pressed into the paper to create an image. Heavenly Monkey's 2009 limited edition of Carnival (Harold Budd) includes five copper-plate etchings.