Basketball player, copywriter, spy, legendary chef: Julia Child would be 100 years old today, and we're still indebted to her legacy of greatness. Child was a pioneer in the culinary world, making high cuisine accessible to a wide audience. Child's cookbooks continue to be popular among both cooking enthusiasts and rare book collectors alike.
Born in Pasadena, California on August 15, 1912, Julia Child was the first of three children. By high school, she was already six feet, two inches tall; Child played tennis, golf, and basketball, and she continued her athletic career at Smith College. After graduation, Child spent some time in New York City as a copywriter.
Child returned to Pasadena in 1937. She continued to write for local publications and volunteer for the local Junior League. With the start of World War II, Child joined the Office of Strategic Services (OSS). First assigned to be a typist in Washington, DC, Child was soon promoted to a position as top secret researcher. Her duties took her to Kandy, Ceylon (now Sri Lanka) and China.
It was in Ceylon that Child met her future husband, Paul Cushing Child. The two married in Pennsylvania in 1946 and moved to Washington, DC soon after. Paul was the one to introduce his wife to sophisticated cuisine. His position with the US Foreign Service took the couple to Paris, where Julia discovered her passion for food and cooking.
Child attended Le Cordon Bleu culinary institute and studied privately under several of the world's great chefs. Through a women's cooking club in Paris, Child met Louisette Bertholle and Simone Beck, who were working on a cookbook. Beck invited Child to join, and the women decided that the cookbook should appeal to an American audience. In 1951, the three women also started teaching American women to cook, using Child's kitchen.
Over the next ten years, Child traveled throughout Europe and eventually returned to the United States to settle in Cambridge, Massachusetts. In 1963, the Childs also built a home in Provence on property that belonged to Simone Beck and her husband.
Mastering the Art of French Cooking finally came out in 1961 and was immediately a best seller. The book made French cuisine accessible to people with little or no culinary training, and it capitalized on the emerging interest in French cuisine. Thanks to the success of this first cookbook, Child earned a position as a regular columnist for the Boston Globe. She also went on to publish about two dozen books and articles, including My Life in France (2006), an autobiography published posthumously.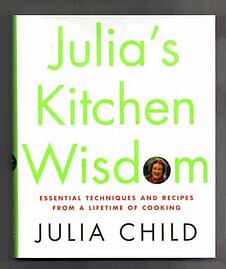 Child launched her career as a television personality in 1963. The French Chef was successful right away. The show won multiple awards and was the first to be captioned for the deaf. She went on to host multiple other cooking shows, several of which were set in her own kitchen at home. The kitchen is now on display at the National Museum of American History in Washington, DC.
Julia Child truly inspired generations of people with her sparkling personality and passion for food. On her 100th birthday, we remember how Child revolutionized America's cooking culture and shaped our relationship with food. Which of her books are sitting on your shelf?