Today we celebrate the birthday of
JK Rowling,
author of the
Harry Potter
series. Her books have sold more than 400 million copies worldwide, making them the top-selling book series in all of history. Rowling's "rags to riches" story is a truly inspiring one.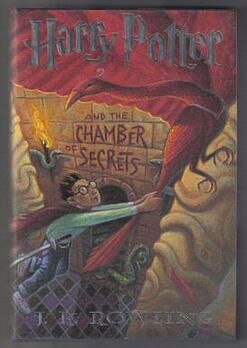 Born outside Bristol, Rowling grew up in Winterbourne. Her headmaster at school, Alfred Dunn, has often been suggested to be an inspiration for the character Albus Dumbledore in her novels. Rowling grew up writing fantasy stories, which she read to her younger sister. As a teen, Rowling received a copy of
Jessica Mitford
's autobiography,
Hons and Rebels
, which would prove an early literary influence; Rowling went on to read all of Mitford's books.
Rowling has admitted that Hermione is a loose caricature of Rowling herself, around the age of eleven. Her best friend at the time, Sean Harris, her best friend at that age, also served as a basis for Harry Potter's best friend, Ron Weasley. Rowling later studied at the University of Exeter, where she pursued a BA in French and classics. She then studied for a year in Paris before going on to work for Amnesty International.
After Rowling and her boyfriend moved to Manchester,
Rowling
found herself facing a four-hour delay for a train trip to London. It was then that she conceived the idea for a boy who attends a school for wizardry. When she returned home, Rowling immediately began writing. In December of that year, Rowling's mother died. Her own sense of loss profoundly impacted her writing, and she delved more into Harry's own loss since she understood it more thoroughly herself.
Rowling moved to Porto, Portugal to teach English, and it was there she met her future husband, Jorge Arantes. The two had a child, Jessica, but separated soon after. Soon Rowling found herself unemployed, divorced, and a single mother, living near her sister in Edinburgh, Scotland. She survived on social security while she wrote her first novel and completed the postgraduate education necessary to teach in Scotland.
In 1995, Rowling completed
Harry Potter and the Philosopher's Stone.
She wrote the novel on an old manual typewriter. Bloomsbury's initial run of the novel was only 1,000 copies, and about half of those went to libraries. The book won its first award only five months later.
Since then, JK Rowling has established herself as a modern legend in the literary world. Her books are popular among people of all ages. Rowling has been named a runner up for
Time's
2007 "Person of the Year" award and earned the title of "Most Influential Woman in Britain" in 2010
Rowling has most recently turned her attention to writing an adult novel:
The Casual Vacancy
is scheduled to be released this September.
Harry Potter
fans around the globe are anxiously awaiting its arrival.
What drew you to Harry Potter and his magical world? And will you read Rowling's next literary oeuvre this autumn?