Today we celebrate the birthday of Ian Fleming, the legendary author who created James Bond. Seven different actors have played 007 in 26 different movie adaptations. The runaway success of Fleming's books can be attributed to the author's background as a journalist and naval intelligence officer. Fleming certainly drew on these experiences as he crafted classic tales of espionage and intrigue.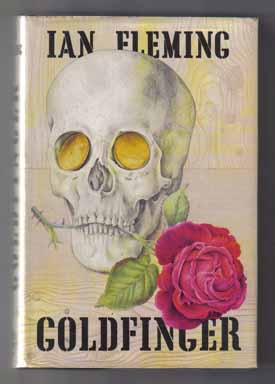 Childhood and Education
Born in London, Fleming grew up in a privileged family. His father was an MP from 1910 to 1917. His grandfather, Robert Fleming, also founded the Scottis American Investment Trust and the merchant bank Robert Fleming & Co (now part of JP Morgan & Chase).
In 1914, Fleming was sent to Durnford School, a preparatory school in Dorset. Near the school was the estate of the Bond family, whose motto was Orbis Non Sufficit (The world is not enough). The Bond family could also trace their ancestry back to an Elizabethan spy named John Bond. Here, then, were the roots for Fleming's character.
Career Transition
After a brief and unsuccessful stint in the family banking business, Fleming was recruited by Rear Admiral John Godfrey, Director of Naval Intelligence, to be Godfrey's personal assistant in May 1939. Fleming soon became Admiral Godfrey's liaison among several different government and intelligence organizations, notably the Secret Intelligence Service. The position proved to suit Fleming, and he was promoted to commander by September 1939.
By the end of that month (and less than a month into World War II), Admiral Godfrey turned in the famous trout memo, which was largely written by Fleming. The memo gets its name because it's based on fly fishing metaphor. The memo suggests planting a corpse with misleading dispatches in his pockets somewhere the enemy will be sure to find it.
This idea would prove the first of Fleming's many brilliant tactical ideas. In 1941, Admiral Godfrey assigned Fleming to Operation Golden Eye. This was the first of several operations in which Fleming would lead strategy. One of these took him to Jamaica, and he resolved to live there after the war ended. Though he didn't live there full time, Fleming did manage to spend three months there each year.
Fleming as Reader and Writer
In 1929, Fleming had begun his own collection of rare books. With the help of bookseller Percy Muir, Fleming focused on "books that made things happen." These included diverse titles like On the Origin of the Species and Scouting for Boys.
Fleming eventually amassed a collection of over 1,000 titles from a variety of subject areas. The inspiration for some of his own novels can be found in these works.
It wasn't until 1952 that Fleming turned his attention to novel writing. He finished his first, Casino Royale, in just two months. He claimed that he began writing to distract himself from his upcoming marriage to pregnant fiancée, Ann Charteris. Fleming himself called the work a "dreadful oafish opus," and his ex-girlfriend Claire Blanchard advised him to publish it under a pseudonym, or not at all.
Fleming named his protagonist after the ornithologist James Bond and noted that he wanted the character to be as dull as possible. Fleming wanted Bond to be a character who experiences plenty of action, but is himself not an incredibly remarkable character.


Blanchard and Fleming grossly underestimated the book's appeal. Published in the UK on April 13, 1953, Casino Royale required three print runs to meet demand. All three sold out completely. From then on, Fleming would use his holidays in Jamaica to write new books. In all, Fleming assembled an impressive list of works:
Casino Royale (1953; published under the title You Asked for It for the first U.S. paperback edition)

Live and Let Die (1954)


Moonraker (1955; retitled Too Hot to Handle in the U.S.)


Diamonds Are Forever (1956)

From Russia, with Love and The Diamond Smugglers (non-fiction) (1957)


Dr. No (1958)
Goldfinger (1959)
For Your Eyes Only (1960: a collection of short stories that includes "From a View to a Kill," "For Your Eyes Only," "Risico", "Quantum of Solace," and "The Hildebrand Rarity")
The Spy Who Loved Me (1962; Fleming refused to have a paperback edition published in the UK. The UK paperback was issued only after his death.)
Octopussy and the Living Daylights (1966; originally included only the two short stories "Octopussy" and "The Living Daylights," but now also includes "The Property of a Lady" and "007 in New York.")
All of Fleming's works met with international success. His books have sold over 100 million copies worldwide. Many collectors choose to concentrate on Fleming because the stories have such universal appeal and recognition from the various movie adaptations.