Today is the birthday of Scottish author and doctor Sir Arthur Conan Doyle. His character Sherlock Holmes has inspired generations of crime fiction writers. Collectors who are interested in mystery and crime fiction on the whole, as well as those focused on specific authors within the genre, would do well to pay

Arthur Conan Doyle some attention. He has had a wide-reaching impact, and his books fit well in to a myriad of different collecting categories.



Conan Doyle's Early Life and Work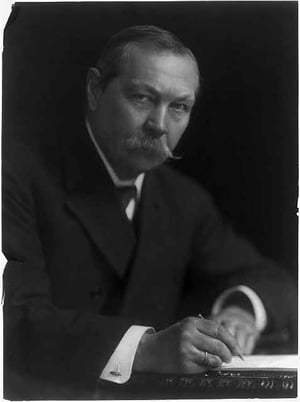 Before beginning his career as an author, Conan Doyle served as ship's physician, and then went into practice with a classmate from medical school. When he opened up his own practice, it was slow to attract patients. Conan Doyle began writing short stories to fill his time.

When Sherlock Holmes made his debut in "A Study in Scarlet," Conan Doyle finally received attention for his work. The Sherlock Holmes stories became so popular that they began to take away from what Conan Doyle considered "more important" work, that is, his medical practice. He decided to kill off the character, only to bring Holmes back by popular demand. Sherlock Holmes was ultimately featured in 56 short stories and four novels.
Conan Doyle's Influence on Crime Fiction and Literature
Both Sherlock Holmes and his sidekick Watson became archetypes for the detective and his faithful friend. These prototypes have been picked up in countless works of literature. Agatha Christie was perhaps the most notable, borrowing from the personality of Sherlock Holmes for her own recurring protagonist, Hercule Poirot.
Authors have also "borrowed" Holmes' supposed catchphrase, "Elementary, my dear Watson." Though Holmes often says, "Elementary" and "My dear Watson," the two phrases never actually appear together in any of Conan Doyle's writings.
P.G. Wodehouse
was actually the first to use the phrase, in the 1915 novel
Psmith, Journalist
.
Father of the Psychological Thriller
The impact of Conan Doyle's work stretches beyond his iconic characters. His stories spurred a fundamental shift in how authors approached crime fiction. Holmes used psychology just as much as he used forensics to catch his crooks. Other authors took notice, and soon the psychology of criminals' minds became just as important as their fingerprints, even as forensic science advanced during the 20
th century.
Thus Conan Doyle's work truly sparked the evolution of the psychological thriller. Though authors like
Thomas Harris
,
Lawrence Block
,
Dean Koontz
, and
Tom Clancy
may not ever have identified Conan Doyle as an influence, the Victorian author certainly planted the seeds for their genre of choice.
Umberto Eco and Sherlock Holmes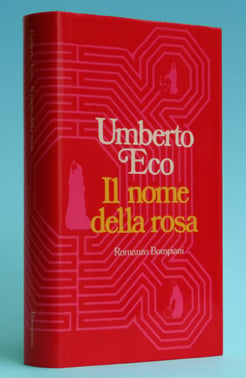 One notable author who drew considerable inspiration from Sherlock Holmes may seem unlikely: Umberto Eco, Italian author, philosopher, and semiotician. Eco's first novel, The Name of the Rose, weaves together both murder mystery and intellectual investigation. The novel's protagonist, Franciscan friar William of Baskerville, is named for Conan Doyle's "The Hound of the Baskervilles." The friar's keen intellect and deductive powers prove critical for solving a series of murders at his monastery. Baskerville's assistant is also highly reminiscent of Watson.

Eco's interest in Sherlock Holmes also prompted him to collaborate with Thomas A. Sebeok on The Sign of Three: Dupin, Holmes, Pierce. The collection of essays addresses the methodological similarities among Edgar Allan Poe's Dupin, Sherlock Holmes, and the philosopher Charles Peirce. Eco also examines the situation in Afghanistan through the eyes of Holmes and Watson in his 2002 piece for L'Espresso, "An Elementary Guide to Afghanistan and Baker Street."

This kind of inter-textual play should be noted by avid collectors. As you begin to add depth to your collection, your focus may well broaden to include works that influenced your primary author. Such growth reflects an excellent approach for enthusiasts who seek to build a more scholarly collection.

How did you first encounter Sherlock Holmes? Which Holmesian works are among your favorites?