Today is the birthday of Lyman Frank Baum, creator of the Land of Oz and author of 55 novels, 82 short stories, and hundreds of other works. His books have inspired musicals, plays, and movies. Baum's works also have immense appeal among rare book collectors, particularly those connected with Oz. These works are commonly referred to as Oziana.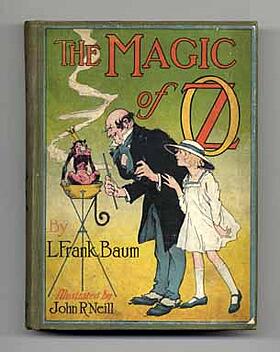 A Privileged Childhood
Lyman Frank Baum (called Frank by his family) grew up on Rose Lawn, the family's estate in Chittenango, New York. His father, Benjamin, was originally a barrel maker but made his fortune thanks to the oil fields of Pennsylvania. When Frank was 12, his parents sent him to the Peekskill Military Academy to toughen him up. But he was miserable and came home after only two years.

Baum soon began writing, likely due to his fascination with printing. His father bought him a printing press, and he was soon publishing The Rose Lawn Home Journal, which even included advertisements for local businesses. He soon launched a second journal, The Stamp Collector. This was followed by an eleven-page pamphlet called Baum's Complete Stamp Dealer's Directory, which he published after starting a stamp dealership with friends.


The Journey to Authorship
By the time he was 20, Baum had taken up a very fashionable occupation: breeding fancy poultry. He specialized in Hamburgs, and soon began
The Poultry Journal.
His first book was
A Brief Treatise on the Mating, Rearing, and Management of Different Varieties of Hamburgs.
Around the same time, Baum became obsessed with the theater—a passion that nearly ruined him on a few occasions. One theater troupe convinced Baum to refurbish its costumes out of his own pocket, in return for the promise of a leading role that never materialized. After that debacle, Baum moved to Syracuse to work in his brother's dry goods store. While working there, he discovered another clerk dead in the store room, an apparent suicide. The episode inspired his short story "The Suicide in Kiaros," published in
The White Elephant.
In July 1888, Baum moved his family to Aberdeen, Dakota Territory. His experiences there would influence his descriptions of Kansas in The Wonderful Wizard of Oz. He edited the local newspaper there. When the newspaper failed, Baum moved the family back east to Chicago and took a position writing for the Evening Post.


Literary Breakthrough
Baum found moderate success as an author in 1897, when he published Mother Goose in Prose. In 1899 he partnered with WW Denslow to publish Father Goose: His Book. The title went on to be the bestselling children's book of the year. This event proved to be the tipping point of Baum's career: when he and Denslow published The Wonderful Wizard of Oz in 1900, it received critical acclaim—and spent two years at the top of the bestseller list.
Baum went on to write 13 more novels based on the people and places of Oz. In 1902, he also teamed up with composer Paul Tretjens and director Julien Mitchell for a musical stage version of the book, which he called The Wizard of Oz. That title stuck for other adaptations, including two movie versions of the novel.
Collecting Oziana
If you're a rare book collector interested in Oziana, it's important to consult a bibliography as you begin the collection. The most thorough is Bibliographia Oziana. Baum's works make an excellent focus for a rare book collection for two primary reasons. First, he was an incredibly prolific author, giving collectors plenty of material for building an incredibly diverse collection around a single author.
Second, Baum's work has taken on a life of its own in popular culture. The result: in addition to books, there are countless items of associated ephemera. Meanwhile, The Wizard of Oz inspires generation after generation, most notably inspiring Gregory Maguire's novel Wicked: The Life and Times of the Wicked Witch of the West.

What was your first experience with Baum's works?