We're proud to present
Occupied by Colour
, the third in Heavenly Monkey's color series. This fine press book goes beyond the two-dimensional page, truly engaging the reader with constructions, movements, and models.
The
color project
began in 2007, when Heavenly Monkey's Barbara Hodgson (author, artist, and book designer) and Claudia Cohen (professional bookbinder) decided to explore their shared passion for color.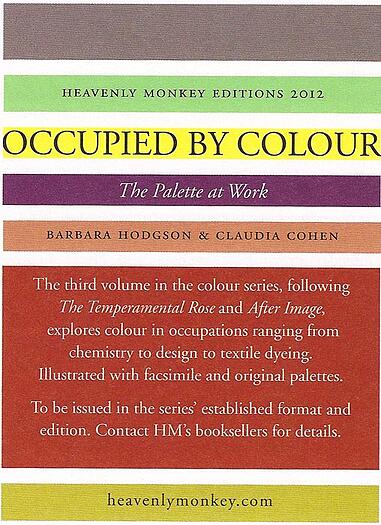 The Temperamental Rose
, the first volume, was published that year.
After Image
followed in 2009.
Occupied by Colour
delves into color in a variety of occupations. The book, like the others in the series, require significant handiwork and a variety of artistic techniques: embellishment, cutting, and even hand coloring. The edition also features a beautifully intricate binding and box created by Cohen.
These books are so detailed and intricate that only thirty copies of each volume have been published. The final volume is set to be released in 2014.
About Heavenly Monkey
Launched as an imprint of publisher Rollin Milroy,
Heavenly Monkey
is a fine press "dedicated to creating books for people interested in contemporary applications of traditional book crafts," such as letterpress printing, handmade paper, and bookbinding techniques that marry both structural and aesthetic integrity.
The press focuses on creating books as objects that can be experienced both physically and intellectually. The team consistently applies technology from multiple eras both innovatively and creatively.
To date, Heavenly Monkey and HM Editions has published 24 different titles. Heavenly Monkey publishes books based on a rather whimsical criterion: they must interest Milroy enough that he wants a copy for his own shelf. Books are chosen for HM Editions by invitation only.