Fine press books have remained popular among rare book collectors since the genre emerged in the late nineteenth century. William Morris, who came up with the concept of fine press, wanted to recall the "golden days" of printing and publishing. Fine press books embody artistic taste and beauty.
Shanty Bay Press of Ontario has certainly maintained Morris' ideals. Established in 1996, the press is devoted to publishing livres d'artists; that is, books where the text and illustrations contribute equally to the book design and aesthetic. Janis Butler is the mastermind behind Shanty Bay Press type-setting, presswork, and binding, while Walter Bachinski is responsible for illustrations.
This month we've added a few items from
Shanty Bay Press
to our inventory.
Homeric Hymn to Aphrodite
Translated by Susan C. Shelmerdine, this piece features a preface by Bachinski. With 3 full-page pochoir illustrations and 3 two-colour woodcuts by Bachinski,
Homeric Hymn to Aphrodite
is handset on Somerset Satin paper 250 gsm using Bembo type. Only 100 copies were printed.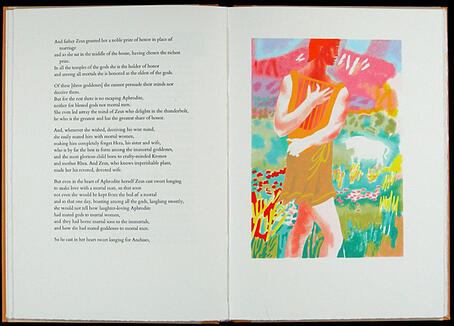 CIRCUS: The Artist as Saltimbanque
The circus has long fascinated artists and writers alike. Designed jointly by Butler and Bachinski,
CIRCUS
contains writings and art loosely based around this theme, including excerpts from Apollinaire, Baudelaire, and Twain. The book is hand-set Deepdene on 200 gsm Arches cover. The book is quarter bound in cloth and Somegami paper and is housed in a cloth-covered slipcase. The 4 full-page pochoirs and 8 multi-coloured linocuts created and executed by Bachinski.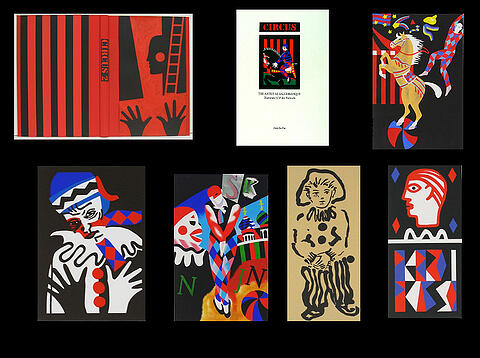 Virgil's Georgics
Translated here by English poet Robert Wells,
Virgil's Georgics
is a lengthy poem that evokes agriculture and animal husbandry. A joint effort by Butler and Bachinski, Virgil's
Georgics
features 5 pochoirs reflecting the poem's themes. It is set in Bembo printed on 225 gsm Arches cover with woodcuts printed on Japanese Kurotani 5. Only 67 copies were printed.