Best known for the Harry "Rabbit" Angstrom series, John Updike published in a variety of genres beyond fiction, including poetry, literary criticism, short stories, and even children's books.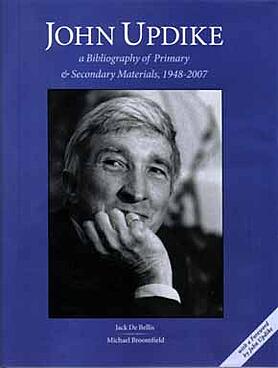 Updike's writing career began while he was a student at Harvard University, where he often wrote for the Harvard Lampoon. He aspired to be a cartoonist, and after graduation Updike headed to the Ruskin School of Drawing and Fine Art. When his family moved to New York, Updike took a position with The New Yorker. He worked there full time for only two years but continued to contribute to the magazine long after, undoubtedly earning him the attention of America's literati.

Updike and his family eventually relocated to Ipswich, Massachusetts. It was here that Updike wrote Rabbit Run (1960), which was later named to Time's list of All-TIME 100 Greatest Novels. Updike also penned The Centaur (1963) during his Ipswich years, and the novel earned him the National Book Award. Updike would win the award again for Rabbit is Rich (1981). This novel also earned the National Book Critics Circle Award and the Pulitzer Prize for Fiction, making it one of very few novels to win all three major American literary prizes.

Rabbit at Rest (1990) completed the Rabbit series and garnered Updike a second Pulitzer Prize for Fiction. Only William Faulkner and Booth Tarkington have also won the prize twice. Updike often credited the Rabbit character with inspiring him to greatness, nothing that Rabbit was "a brother to me, and a good friend. He opened me up as a writer."

Meanwhile Updike built a reputation as a writer who documented the infidelities and marital disharmony of middle America, a topic that won him criticism from many different camps. The short story "Couples" (1968), his most famous work on this theme, landed him on the cover of Time under the headline The Adulterous Society. Updike addressed the subject of romantic relationships differently in the Maple short stories, which reflect his own marital struggles.

In 1978, Updike broke new ground as an author. He penned The Coup, a novel chronicling an African dictatorship. His next novel, The Witches of Eastwick (1984) also represented new territory for the author. The novel was adapted for the big screen and made its way to Harold Bloom's list of canonical 20th-century literature. Its sequel, The Widows of Eastwick (2008) was Updike's last published novel.

Because Updike was both talented and prolific, his works are fertile ground for discerning collectors of rare books. Jack DeBellies and Michael Broomfield published a bibliography of Updike's works, an instrumental tool to any Updike collector.