Ever hear of "The Turnip Princess"? This unlikely fairy tale is one of over 500 recently discovered in Germany. Compiled by Franz Xaver von Schönwerth in the mid-1800's, the stories have been locked away in an archive for over 150 years.
Though "The Turnip Princess" may not be the next "Cinderella," the stories certainly represent hidden gems of cultural history and illustrate the rich tradition of the fairy tale. The canon of children's literature and folklore are always evolving; our canon will soon undoubtedly include several outstanding authors and illustrators, most notably Charles van Sandwyk.

Charles van Sandwyk''s Exceptional Illustrated Literature
The works of Charles van Sandwyk transcend even the traditional fairy tale. His richly illustrated books have earned recognition not only among children''s book lovers, but also among rare book collectors. Among fine press books, van Sandwyk's books stand out for their whimsical illustrations, delicate construction, and captivating stories.
His tales follow the tradition of Aesop''s fables and Beatrix Potter''s stories; van Sandwyk creates charming worlds populated by animals. Simple, elegant prose complements the fine illustrations.Collectors of Charles van Sandwyk's books rely on Charles Van Sandwyk: An Interim Bibliography 1983 to 2000. The first book published by Heavenly Monkey, the bibliography itself is a lovely work, collectible in its own right.
Selected Books by Charles van Sandwyk
Animal Wisdom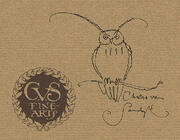 A beautiful First Edition in Fine condition in blue wraps, only used for the first printing. Charles van Sandwyk signed this copy of Animal Wisdom and added a beautiful drawing of an owl.

A wise old bird sits beside the heart of humanity. She recalls a time long before mankind stood upright and walked so proudly upon two feet, when man and best drank together with equality, from the same cup of life. She is the spirit of nature and she urges us to take heed of the wisdom of the wild (from the introduction).
The Fairies' Christmas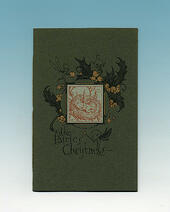 A stunning First Edition/First Printing with French flaps in Very Fine condition. The Fairies' Christmas has eight hand-sewn pages, four tipped-in illustrations in full color by Charles van Sandwyk. Signed "Charles Noel van Sandwyk" on the title page. Burgundy stiff paper wrappers with title in black and gilt. Typography by Robert R. Reid and letterpress printed by David Clifford at Black Stone Press. Editorial assistance by Rollin Milroy .

Issued by Heavenly Monkey as their Christmas 2001 book, it tells the story of a Christmas a boy spent with his grandfather and their encounter with a gathering of fairies. "When I was a boy, it was a long, long time ago. I lived with my grandfather who was a very old man, but in our hearts we were exactly the same age. Life was more simple"
Strange Birds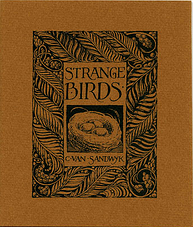 A stunning First Edition/First Printing with French flaps in Very Fine condition. 20 hand-sewn pages, published by the author himself, with black and white printed illustrations. Signed by Charles van Sandwyk on the copyright page. This volume of Strange Birds is one of 1,000 total printed copies. Scarce.

"A book of nonsense. " The first book written and published by Charles van Sandwyk. His story about many exotic birds, from the Three-Wattled Bellbird to the Hornbill and the Toucan; starting out with "Let me tell you about all the birds that I know."
The Simple Line
The text was set in 18-point Centaur and printed in two colors on Arches paper. The essay (9 x 13 inches, 10 pp, sewn folios issued in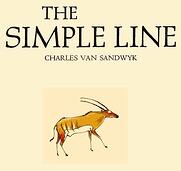 a cloth case binding by Claudia Cohen, with printed spine label) is being issued jointly by Heavenly Monkey and CVS Fine Arts, limited to 50 copies signed by the artist. Numbers 1-25 (this one being #16) were issued through Heavenly Money and cased in natural linen. Very Fine condition.

This essay about Charles' approach to etching was originally written as the introduction to a retrospective of etchings he created over the past two decades. That book, titled Twenty-One Years, Twenty-One Prints, has being issued privately (spring 2007) by the artist, in an edition of just 13 copies (issue price in the mid-four figures). Impressed by the essay's insight to his work and art, Heavenly Monkey proposed over-printing it and issuing it as a companion volume. The essay features five tipped-in prints of Charles' earliest etchings, plus a new etching created just for The Simple Line. The title page features a new drawing colored by the artist.
Will O' the Wisps
A numbered First Printing of this miniature First Edition in Very Fine condition. Limited to 35 numbered copies, Will O' the Wisps is an accordion-folded page book closed with a band. Accompanied by a leaf cutout of marbled paper, leaf signed by author Charles van Sandwyk. Meant "for little hands", this miniature accordion book is filled with fanciful and fairy-like creatures. Included is a hand-written colophon page by Charles van Sandwyk.

Affairs of the Heart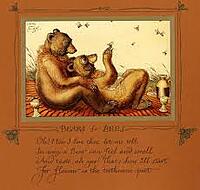 A stunning First Edition/Second Printing (October 2007) with French flaps in Very Fine condition. 28 hand-sewn pages, some with deckled edge, fourteen tipped-in illustrations in full color by Charles van Sandwyk. Signed by Charles van Sandwyk on the half-title page. A unique copy, rare to find signed. Van Sandwyk's Affairs Of The Heart is a romantic set of poems told by the animals of Charles' illustrations.
If you're interested in collecting the works of Charles van Sandwk, you'll enjoy our downloadable mini collector's guide.