The nominations are in, and "Hugo" tops the list with 11 Academy Award nominations. The film, directed by Martin Scorsese, earned nominations for best film and best director. It is one more example of books' inspiring movies we love!
Already an Award-Winning Story
"Hugo" is based on the 2007 book The Invention of Hugo Cabret, which won the Caldecott Medal in 2008. Written and illustrated by Brian Selznick, it was the first novel to earn the honor. The book has 533 page, which include 284 illustrations. Selznick says The Invention of Hugo Cabret is "not exactly a novel, not quite a picture book, not really a graphic novel, or a flip book or a movie, but a combination of all these things."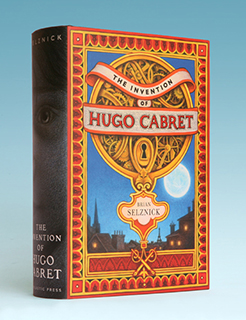 Selznick drew inspiration from the life of French filmmaker Georges Méliès. Méliès had an extensive collection of automata, or wind-up figures, though these have long since been lost or sold. The filmmaker died without having made his fortune, even though his films were exceptionally popular in the United States. Selznick also chose to set the book in a Paris railway station because Méliès actually had a booth there—his door is one of the illustrations in the novel.
In the book, Méliès is godfather to Isabelle, who accompanies the orphaned Hugo on most of his adventures. The 12-year-old Hugo works in a busy Paris rail station as a clock keeper. The beauty of the illustrations and the ingenuity of the story made the novel an easy choice for a movie adaptation, and there's even talk of a French television series based on the novel.
As the movie has garnered so much attention, the book has once again found a well deserved place in the spotlight. Signed first editions will make exceptional additions for collectors who focus on movie tie-ins, Caldecott winners, or children's books. What's your favorite book that has found its way to the big screen? And what are your predictions for the Academy Awards?
Do you collect children's books?